Publication of Traditional Liturgical Books
Project location: ITALY
Project start date: September 2007 - Project end date: This project covers various years
Project number: 2007-03
Beneficiary: libreria editrice vaticana
Publication of the Missale Romanum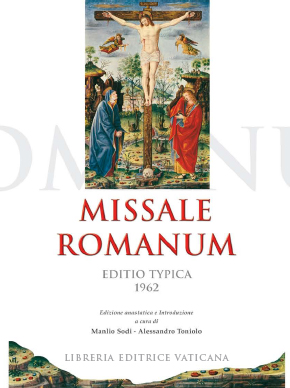 The project co-funded by the Nando Peretti Foundation consisted in publishing - as part of the Monumenta Liturgica Piana series - the original version of the Missale Romanum Editio Typica 1962. The book was edited with the theological introduction by Manlio Sodi and Alessandro Toniolo (number of pages: 1120) in 2 colors. The edition is dedicated to Nando Peretti's memory.
The idea of this project comes from the fact that on the 7th of July 2007, Pope Benedictus XVI liberalized the use of the 1962 Missale Romanum. The publication contains a 2-color copy of the original one, and it will be a fundamental support to understand and appreciate that kind of celebration that has been used since 1962. The volume will be used for the liturgical celebrations in the parishes, in any church where it will be requested, all over the world.
The first edition will by published in 1000 copies. It is available since October 2007 in all Italian bookshops.
The colophon reads: ... gratam faciens memoriam patris mei Nandi: vivat benedictus in sæcula! Elsa Peretti