Publication of Traditional Liturgical Books
Project location: ITALY
Project start date: September 2007 - Project end date: This project covers various years
Project number: 2007-03
Beneficiary: libreria editrice vaticana
Publication of the Rituale Romanum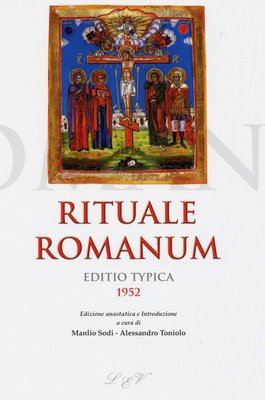 The project co-funded by the Nando Peretti Foundation consists in publishing - inside the Monumenta Liturgica Piana series - 1.500 copies of the original version of the Rituale Romanum. The book willbe edited with the theological introduction of Manlio Sodi in 2 colors. The editionwill be dedicated to Nando Peretti's memory.
The Rituale Romanum is a book about ceremonies presided by the priest during the celebration of the sacraments and other blessings (Baptism, Eucharist, marriage,Reconciliation, anointing of the sick, funerals, and numerous other blessings).
The volume is an anastatic reprint of the 1952 edition. It is the result of numerous editions published after the Council of Trento in 1614. In that date an edition was published which prof. Manlio Sodi has already included in another collection.
The 1952 edition is not only a work of current interest after the Motu proprio published by Benedict XVI on July 7, 2007, but also a source for the study of the Tridentine liturgical reform.
The interest for this edition arises also because after 1952 there have been no further editions, except for some slight adjustments in certain prayers. After the Second Vatican Council changed its structure, several texts were changed, and finally these new texts in Italian were used.