Establishing a Chelonian Survival Network for Imperilled Asian turtles
Project location: UNITED STATES
Project start date: June 2001 - Project end date: July 2002
Project number: 2000-05
Beneficiary: Conservation International
Please click on the following link to open the document:TURTLE AND TORTOISE NEWSLETTER Issue Number 6 October 2002 [pdf 1.5MB]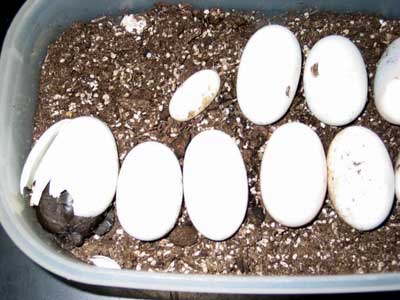 the eggs of the turtles
This project started with the forming of The Turtle Survival Alliance in order to provide guidelines and rules for partners in turtle conservation to be able to work together. The IUCN Turtle Survival Alliance created a strategy for all individuals and institutions interested in working towards saving the world's turtles to be able to work together with the same goals and objectives.

Moreover CI has just recently been able to start the specific projects (those that the NPF' funding is being provided for):
The construction of a greenhouse for turtles and a rescue center in cooperation with The Tortoise Reserve in North Carolina and Conservation International. A greenhouse was constructed during August and September 2001 and is nearly ready to receive turtles.


The Turtle Hospital (Providence, Massachusetts) is receiving another grant from the Nando Peretti Foundation. The Turtle Hospital will be receiving turtles of two species from Hong Kong Gov't officials via the Kadoorie Farms and Botanic Garden. These turtles are imperilled species and were illegally traded, and were confiscated by the Chinese authorities, they will be transferred to the Turtle Survival Alliance through the U.S. Fish and Wildlife Service. They will receive appropriate medical care at the Turtle Hospital. Then they will go to The Tortoise Reserve to be kept in the facilities that will ensure reproduction.


The Orangeburg Fish Hatchery (South Carolina) will be receiving offspring of confiscated turtles to maintain in their existing fish hatchery ponds. These turtles will form the basis for the Assurance Colonies that will be used to repatriate turtles to their native ranges at some point in the future. At this moment, CI is finishing final negotiations with the Orangeburg Fish Hatchery to modify two ponds to house long term Assurance Colonies of turtles.
In addition, CI now has turtles of another Asian species that they are putting in the ponds and equipping with radio transmitters. These turtles are being monitored to assess these turtles' suitability to surviving in these ponds. CI has to be sure that the species can survive outdoors year round in the South Carolina climate. They are doing this study with a small number of turtles, and will then expand the program.


The rescue center at Cuc Phuong National Park in Vietnam has been visited by Dr. Bulhman this past spring. CI has provided assistance to the Cuc Phuong rescue center and have put together a plan for expanding their capacity to receive confiscated turtles. Dr. Bulhman is planning a return visit soon. He has to finish negotiating with the Vietnamese government for them to allow us to use these rescued turtles in Turtle Survival Alliance Assurance Colony Programs.