Medical Care for Young Patients with Congenital Heart Diseases
Project location: ETHIOPIA
Project start date: January 2004 - Project end date: December 2004
Project number: 2003-52
Beneficiary: MILENA ONLUS
2007 ACTIVITY REPORT

Dr.Elisabetta Zachara MD

The Cardio patients travelled back to Mekelle with E.Zachara MD.
The November 2007 mission was the fourth one developed in partnership with the ONG VPM and Milena ONLUS together with the precious contribution of San Camillo Forlanini Hospital of Rome.
The action plan was the following:
PHASE I - School community based survey and follow up study
PHASE II - Dedicated cure and prevention programmes
PHASE III - Intervention programme for patients that need heart surgeries
The overall activity has been managed by Elisabetta Zachara MD - Project Leader of "Milena: a heart for Ethiopia".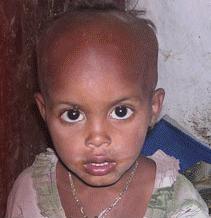 RESULTS
During this forth mission of 2007, the last of the three patients previously selected in Quiha Hospital during the screening 2006-2007 arrived from Makallè and joined us for the journey to Rome , St. Camillo-Forlanini Hospital. She went back home after cardiac surgery. Her name is AZEBMUEZ WOLDERUFAEL . She is 19 years old and had a severe heart failure and underwent substitution of the mitral valve with a prosthetic biological valve (16.10.2007) . After a short period of convalescence she went back home. The journey was difficult and when we arrived to Quiha Hospital in Makalle , she stayed some days and underwent specific therapy after the previous heart surgery in AOSCF in Rome.
In collaboration with the local Hewo hospital staff we work in the clinic departments, to assist the Italian surgeon (Lazio Chirugia Association) in the hearth consulting, and in the outcome clinic hearth activities, visiting many new patients and in follow up. Several Pediatric and Adults Cardio Patients came from long distance to have the opportunity of a Cardio visit. Some of these are hospitalized in emergency unit.
During this period ( from 4 nov to 13 nov ) an important agreement was written and signed among S.Camillo -Forlanini Hospital, Ngo VPM, Milena ONLUS and Health Bureau and University of Makallè . This Memorandum of Understanding had very ample promises at Ayder University Referral Hospital serving at the same time as a teaching hospital for both graduated and postgraduate studies.
CONCLUSIONS
The mentioned cardiology mission carried out in Quihà - HEWO Hospital, has allowed the surgery intervention of a young girl in Italy and her coming back home to Ethiopia and the reoune hearth clinic activity. During that period an important agreement was written and signed among University of Makalle, St Camillo-Forlanini Hospital, Milena Association and Ngo VPM, that permit a local institutional hospital project with the contribution of Nando Peretti Foundation.
Elesabetta Zachara MD Mekellè 14.11.07

Ayder University Makallè - Ethiopia