Suppporting Participants in the International Forum
Project location: GERMANY, Altötting
Project start date: August 2008 - Project end date: This project covers various years
Project number: 2007-18
Beneficiary: GEMEINSHAFT EMMANUEL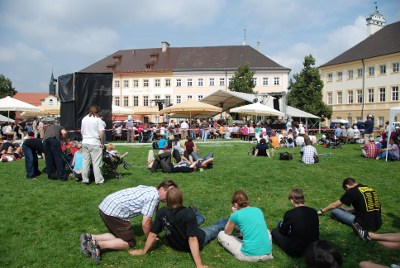 The goal of the project cofounded by the Nando Peretti Foundation is to bring together young people and families from all over the world to a festival of faith, which lasts five days. By partecipating at this festival, they should experience that they are not alone with their faith and that the religion can be funny and modern. The organization has a great experience in organizing this meeting, as it already did it eleven times in the past years (once a year).
More or less 1800 young people and families will participate, but about 500 of them won't be able to affort their stay. As the participation fee doesn't fully cover the cost of the stay, the organization needs an external help in order to make their stay possible. The place where the event will take place is Altötting, which is a very important Mary's pilgrim place (the Pope visited it on 11.09.06). The festival has many different goals: to bring many different nations together, to diminish prejudice within different nationalities and races, to strengthen Christian values and to show to young people that they are not alone.
In each of the five days, many different activities are supposed to be carried out, such as group-works on different themes, choirs, sports, readings, lectures from special guests and preparing of the evening programs and of the final day activities.
As young people feel often very lonely with their faith, the event should show them that faith can be modern and fun.