Suppporting Participants in the International Forum
Project location: GERMANY, Altötting
Project start date: August 2008 - Project end date: This project covers various years
Project number: 2007-18
Beneficiary: GEMEINSHAFT EMMANUEL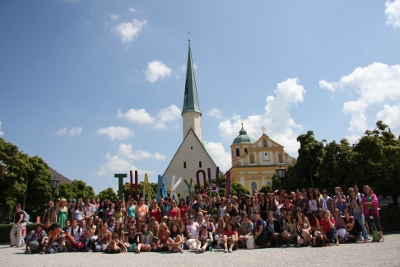 [2009-17]
The goal of the project co-funded by the Nando Peretti Foundation is bringing together young people and families from all over the world to a festival of faith, which lasts five days. By participating at this festival, they should experience that they are not alone with their faith and that the religion can be funny and modern. The organization has a great experience in organizing this meeting, as it already did it twelve times in the past years (once a year).
The Project has successfully been supported by the Nando Peretti Foundation in 2008. In the first week of august 2008, almost 2000 young adults and families with children came together for the Festival, coming from 19 different countries, to participate to specified programs, depending on their age.
Every year special guests are invited for conferences, workshops or testimonies. In 2008 the special guests were:
• Cardinal Friedrich Wetter from Munich
• Bishop de Jong: youth-bishop in the Netherlands
• Pater Dr. Leo von Maasburg who accompanied Mother Theresa from Calcutta for 7 years, during her traveling all over the world.
• Father Dr. Karl Wallner, Cistercian Monk from the Monastry of Heilig Kreuz, near Vienna and rector of the pontifical University Benedict XVI and producer of a Gregorian CD: "Chant, Music for Paradise" wich was nr. 1 in the chards in the UK.
• Dr. Manfred Lütz, psychotherapist and theologian, Member of the pontifical council for the Laity, Author of two best sellers in Germany.
• Prinz Stephan von und zu Liechtenstein, Ambassador of Liechtenstein in Berlin and member of the Emmanuel Community.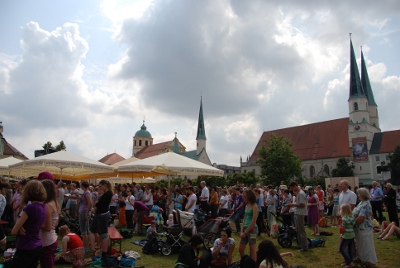 The support of the Nando Peretti Foundation in 2008 was used for hosting 200 young people from central and eastern Europe, from eastern Germany and from India.

It's very important for young people, especially for those coming from former communist countries, to come together for international events like this. In Altötting this generation receives a support to participate to the construction of a common European house, built on a strong fundament. This support is:
• an international context, where they can overcome prejudices about other nations and make personal contacts with young foreigners;
• a place where young people can receive teachings and participate to discussions about Christian values;
• a place where young people can experience a young, dynamic and faithful church. At home, they are often alone with their questions about sense of life, faith, church and society. It's very important that they can experience that there are other young people like them, with the same questions, the same problems and especially the same hopes.
Over 100 young volunteers work on that project. This is a good opportunity for voluntary workers to learn to be committed or to take responsibilities.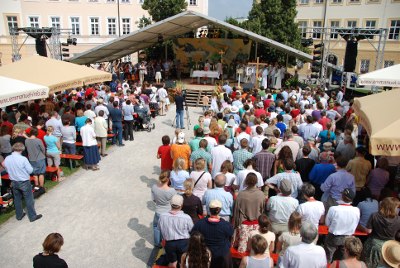 The
XIII International Forum Altötting
took place from 4th to the 9th of August 2009. More or less 1800 persons (young people and families) participated to the Forum.
About 400 of them wouldn't have been able to afford their stay. The participation fees don't even fully cover the organization's costs, and external helps and donations are needed in order to make the participants' stay possible.
The place where the event takes place is Altoetting, which is a very important Mary's pilgrim place (the pope visited it on 11.09.06).
Each of the five days of the Festival is divided into different activities like: work-groups on different themes, choral groups, sports, readings, lectures from special guests, workshops, evening programs.