Suppporting Participants in the International Forum
Project location: GERMANY, Altötting
Project start date: August 2008 - Project end date: This project covers various years
Project number: 2007-18
Beneficiary: GEMEINSHAFT EMMANUEL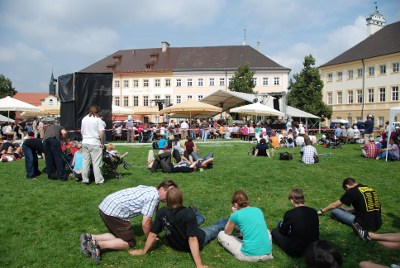 From the 4th to the 9th of August 2009, as every year since summer 1996, over 2000 young adults, teens and Families got together for a great international event in Altötting. The goal of those meetings is to bring together youth and families from all over the world to a festival of faith, which lasts five days. By participating at this festival, they should experience that they are not alone with their faith and that religion can be funny and modern on one hand, deep and a real support for everyday's life on the other hand.
This year, 3 separated forums took place at the same time. The request of the youth, to have a complete autonomous program from the adults and from the teens has been taken seriously and put into practice.
3 forums, means 3 places, three stages, 3 programs, 3 orchestras etc. Only a few masses and evening programs have been put together.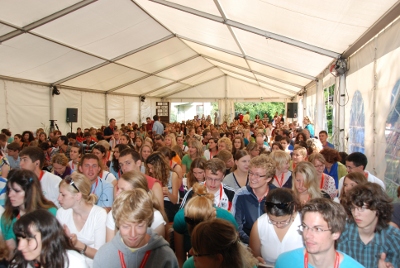 We had the pleasure to receive people from 23 different countries this year (Last year 19 countries):
People came from Germany Austria Switzerland Belgium Egypt Netherlands France Great Britain Italy Taiwan India Latvia Poland Romania Argentina Slovakia Slovenia Croatia Czech Republic Mexico Hungary Luxembourg Republic Cong. 1.759 registered people came from far away and 2-300 locals joined the program every day.

To be more precise, there were: 712 adults 451 young adults 243 teens 353 children
Each of this groups had their own programs, their own topics, conferences, workshops and discussions. All of them came together for common program points.
The motto this Year was:
"For I know the plans I have for you,...plans to give you hope and a future." (JEREMIAH 29:11)
Every Year, the Forum is given a motto: a verse of the bible, a citation of the Pope or of a saint. This motto gives the central theme for all conferences, talks, workshops etc.
This year we chose this verse of the bible because it seemed to us important that christians send a message of hope, in period of economical crisis and, despite all difficulties and fears young people have to face nowadays.
All teechings from Priests, lays, couples, professors were under the light of this message.
A tipical Day at the Forum:
For almost five days the Forum Altötting proposes every day a programm of 14 ours. The day begins with
• breakfast until 8:45 am and
• morning praise at 9:00 am on the main square.
• teachings
• Holy Mass at 11:00 am and
• lunch at 12:15.
• After Lunch there are sport activities, choir and music-rehearsals, sketches, games etc. until
• 3:00 pm, when workshops and talks begin.
• 4:00 pm, sharing groups give participants an opportunity to speak of their impressions and listen to what others have to say
• After the sharing groups there is a time for personal praying until dinnertime at 7.00 pm
• the evening-program begins at 8:30 pm
Special Guests:
Every year the Forum invites special guests, who can be lay-people, priests or Bishops, people who are either well-known os specialy qualified in one topic or who have a special testimony to give.
This year we were happy to welcome: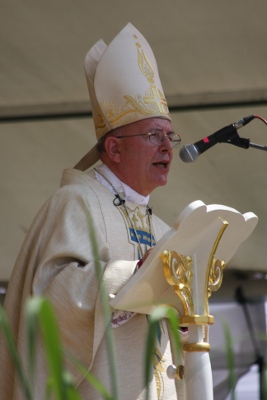 Klaus Küng (photo to the left) is the Bishop of Sankt Pöllten, an Austrian diocese. Küng is after the Kardinal Schönborn, one of the most well known and one of the most important bishops in Austria. Bishop
Heiner Koch: Heiner Koch is auxiliary bishop in the diocese of Cologne. He was responsible for the World Youth Day in Cologne in 2005.
Brother John Paul Mary: alias Patrick (Paddy) Kelly from the Kelly family, who was very famous in German-speaking-countries and all over the world in the 90'ties. All in all, The Kelly Family sold over 15 million records. In the year 2000 Paddy Kelly made a solo album where he sang about his conversion and then he entered into the saint John community where he lives as a monk.

Bruder Paulus Terwitte...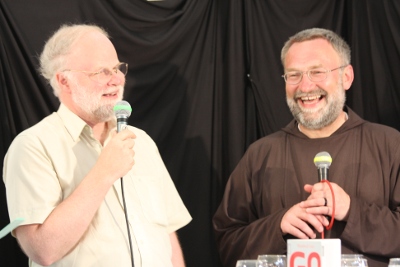 ... is a well known capuchin monk, who has written several best-seller-books, who was regularly invited to the best known TV-debates and who finally got his own TV-show on one main German TV channel.
Bernt Posselt: German Christian Democrat and Member of the European Parliament, Bernd Posselt is also journalist and author of several books.

Dr. Manfred Lütz: Dr. Lütz is a regular guest at the Forum. He writes one best-seller after the other and is always invited in talk shows on TV. Lütz is psychotherapist and theologian, Member of the pontifical council for the Laity.

Andreas von Habsburg: is investment-banker, father of six Children, member of the Emmanuel Community and as the former responsible for the Emmanuel Community in Germany, he is the founding father of the Forum Altötting.

Paul Ponce: is a well known juggling entertainer. His act has been a hit in practically any type of venue around the world, from New York to Tokyo, Melbourne to Monte Carlo, Berlin to Los Angeles...Paul Ponce has performed at the World Youth Day in Cologne.

Dominique Morin: Dominique Morin is on of those persons who followed the principals of sex, drugs and crime for a very long period of time. A deep life crisis followed by a deep conversion has changed his life. Everything of his past has disappeared: the drugs, the violence, his unordered sexuality. Everything except AIDS. Dominique talks with the young people about his new life.
Alfred Perner: Alfred Perner from Switzerland was Punk. An unexpected encounter with Franciscan monks from the Bronx (New York City) has changed his life. He got baptised in 2007 and now he is an artist, writing Christian songs.
An army of volunteers:
The Forum Altötting would not be possible without the helping hands of over 100 volunteers working more than full time for quite a long period of time. A group of 70 young people even come two weeks before and stay one week after the Forum for all preparation and post-processing work.
For the Music and liturgy of the 3 Forums, 120 young musicians and singers came 5 days before for a kind of rehearsal days. Some of them sang in the choirs
The duties of our volunteers are various. From practical work to holding a teaching or moderating the evening program.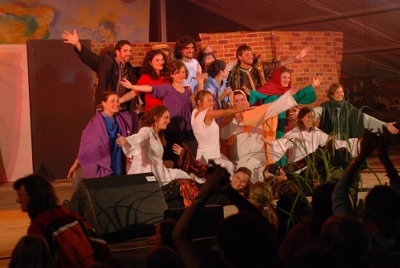 The main services are:
• Setting up of tents, stages, tables, chairs, sound- and light-show-equipment etc.
• Logistics and order on stage, during the liturgy, in the accommodations etc.
• Light and sound
• Signposting,
• recordings and translations
• Distribution of meals
• medical service, first aid
• decoration of the podium, the churches, the tents
• Reception, Info-point, books- / CD- / T-Shirts-stand etc.
• Guiding VIPs
• Public Relations, printing medias
• photography, film and homepage maintenance
• Liturgy, music, evening programs
• Program for Children and teens etc.
• teachings, workshops, leading a discution group
• fund raising and bookkeeping
• publicity
• cleaning and rubbish management
• repacking of all set up infrastructure
Since the very beginning, the town of Altötting is cooperation partner for the Forum. The mayor was the one who called the Emmanuel Community to come to town and organise events for young adults. All church, political and private institutions and all the schools cooperates generously as follows:
• the municipality with financial and infrastructural support
• the parishes by letting us use their rooms, halls and churches
• the schools by opening their gymnasiums for overnight accommodation
• the convents and monasteries by opening their doors and gardens for camping, sports, or priest accommodation
• The local hotels by opening their rooms and halls for conferences and workshops free of charge and by granting lower prices for our participants.
• Last but not least, the 40 guest-families, who welcomed over 150 guests, young adults and families, for whom a hotel room would have been too expensive.
This Forum was an unforgettable moment for so many people in many aspects. The teachings, workshops and discussions are such as they should help them in every day's life, wherever they are and whatever they do. The moment of praying would give them strength and hope for the future. The Forum is also a great possibility to make international contacts. Finally, all those who participated as volunteers had a strong experience of community life and they could also experience how fulfilling it is to give.
After those 5 days, everybody got back home to his country, in his town or village, starting again every day's life, feeding on every gifts received , and every memory of the good times spent in Altötting.
240 young people from central and eastern European countries, from poorer countries and from the former German Democratic Republic benefited from the Foundation's Grant.
Representing them we would like to express our deepest gratitude to the Nando Peretti Foundation for having supported them.