Research Study on Ultrasound Guided Central Venous Catheter Insertion in Children Aged Between 0-4 at the Policlinico Umberto I
Project location: ITALY, Rome
Project start date: September 2008 - Project end date: August 2009
Project number: 2008-06
Beneficiary: Policlinico Umberto I di Roma Clinica Pediatrica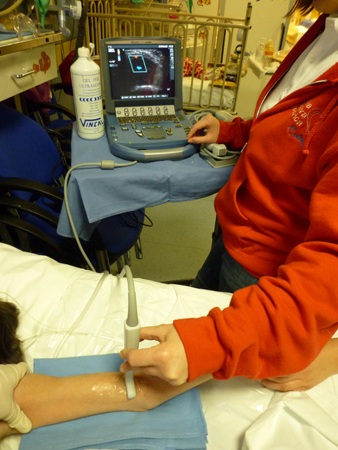 Ultrasound guided central venous cannulation (CVC) has been advocated as a means to reduce time to cannulation, number of attempts, and overall complications. Increasing evidence supports the role of ultrasound in young patients during CVC cannulation.
The aim of this study co-funded by the
Nando Peretti Foundation
was to evaluate the advantages of ultrasound for central venous/arterial catheter insertion in young children (0-4 years) admitted to the Pediatric and Neonatal Intensive Care Unit (PNICU).
We inserted 95 central venous/arterial central catheters on 82 children in one year study (2008-09). In 96% of the procedures US guided cannulation was successful.
The following advantages were attained upon application of US guided CVC cannulation:

1) Residents with little or no experience were able to cannulate central veins at first or second attempt. The time of the training process of the central vein catheterization was thus considerably reduced through this technique.
2) In infants less than 1 year of life, internal jugular vein cannulation that is commonly reserved to older patients could be successfully performed in 92% of the attempts.
3) In children with multiple CVC placements, who are at high risk of venous thrombosis and failure of subsequent CVC attempts, further placement of central venous catheters was successful in 92% of the procedures.
4) In children with neuromuscolar disorders with spastic dyplegia and difficult central venous approach, CVC was successful in 100% of the procedures.
5) Time to successful central venous catheter placement was considerably reduced.
6) Hemodynamic monitoring has been implemented since the use of US guided CVC because of the easier CVC positioning. As a result vasopressor drugs could be optimally titrated and new therapies could be sperimented.
7) Central venous lines could be easily placed in moderately ill children admitted to the General Pediatric Ward not requiring intensive care
8) Hematologic patients with thrombocytopenia who were not eligible for CVC because of easy bleeding could be cannulated without risks
Diffusion of the results:
Postgraduate Course 2008/09 on Pediatric and Neonatal Intensive Care
Lesson: Ultrasould guided central venous catheter placement in pediatrics: Dr. Almenrader
Congress on Pediatric and Neonatal Intensive Care, Rome 23-25 November 2009
Ultrasould guided central venous catheter placement in pediatrics: Dr. Coccetti
Postgraduate Course 2009/10 on Pediatric and Neonatal Intensive Care
Lesson: Ultrasould guided central venous catheter placement in pediatrics: Dr. Almenrader