Promoting Health Education and Constructing Sanitation Facilities in 6 Rural Schools
Project location: INDIA, Kurnool District
Project start date: June 2009 - Project end date: July 2010
Project number: 2009-10
Beneficiary: Kurnool Rural Development Health Society
Project Report
by Kurnool Rural Development Health Society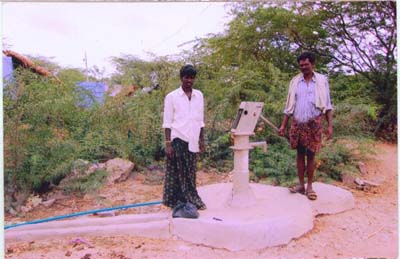 Construction of the Bore well
Kurnool Rural Development Health Society (KRDHS) conducted a survey in 6 rural schools and explained the main concept of the Donor Agency and the purpose of the organization. The organization has gathered all school children and their parent's community leaders and the members of Panchayat Raj in the community hall and discussed about health promotion, sanitation and safe-drinking water provision among the school children. KRDHS interacted with all participants. The authority of Panchayat Raj volunteered to depute one of their civil engineer for designing, sketch of sanitary latrines, bath rooms and construction of over tanks for safe-drinking water. The Panchayat Raj has provided tractor for transportation of raw materials from different places to the target schools.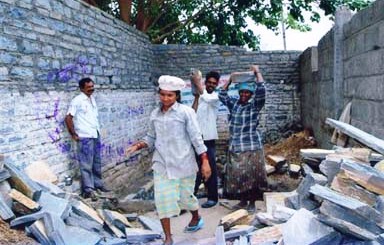 Construction of Latrines & Bath Rooms
School pupil leaders, the Headmaster, two community leaders and the civil engineer formed a purchasing committee and purchased all required raw materials for the project.
KRDHS formed a school garden committee, Health committees and a tree plantation committee among the school children and explained about the importance of these components and also allotted duties and responsibilities to each committee. The construction of the target components involved mason, community leaders and the school staff as per the sketch given by the planner. These activities were carried out under the supervision of the school Headmaster and the President of the organization. Every day a few parents of school children participated in the project activities. All villagers, school and Panchayat Raj were very happy for the grant by the Nando Peretti Foundation.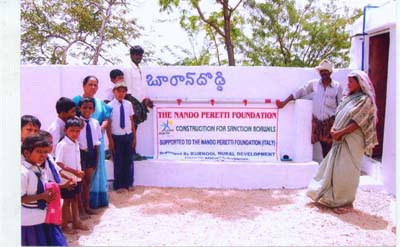 Thank-you Banner
The purchasing committee submitted the bills vouchers and related quotations to the organization. The same was entered in KRDHS records and kept ready for review by any concerned authority. The parish priest several times visited the schools and monitored the activities and reviewed the records pertaining to project activities on behalf of our RCM Diocese of Kurnool District.
School children formed school garden, planted trees in-around the school and watering them daily in the leisure period.
In the initial stage, the village people reluctant to join in KRDHS activities. In the later stage most of the villagers volunteered to work in this task. The Panchayat Raj and community leaders planning to construct compound wall around the school with their sources. KRDHS target schools have become a model to the surrounding villages and their schools. The Mandal Educational and District Educational Officers visited the KRDHS target village school and appreciated work done and promised for formation of a school play ground if Panchayat Raj provided Government vacant land. KRDHS activities inspired and encouraged other Government School authorities to continue.