Costruction of a New Building at the Disha Center for Disabled Children
Project location: INDIA, Jaipur
Project start date: July 2002 - Project end date: This project covers various years
Project number: 2001-20
Beneficiary: DISHA
all photos on this page by Antonio Nodar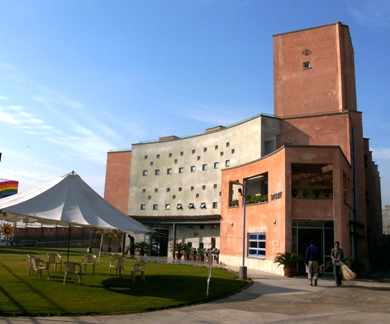 Jaipur, with its population of 1.000.000, has a minimum of 40.000 persons with mental challenges and another 10.000 with cerebral palsy for whom services are provided only through voluntary organization. No Government programs are available for direct services like special schools and vocational training institutes. They have to depend on voluntary organizations. Disha has played a very important and leading role in not only providing services but also spreading state wide awareness in the field. The center is presently housed in two rented buildings that do not have proper access for wheel chairs. Also there is need to expand services for which more space is required. Presently the staff training and parent training programs are conducted under a tent, there is no place in physiotherapy room for assisting devices. The speech therapy room cannot be made sound proof as it is in the corner of the office. Hence, it is very important for Disha to have a building of its own design.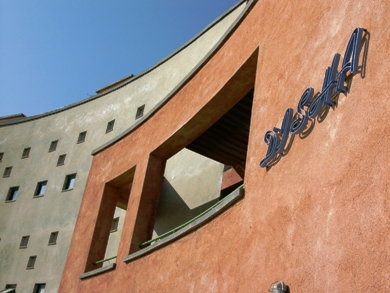 Disha, established in 1995, was the first organisation in Rajasthan to provide comprehensive services under one roof to persons with cerebral palsy and other neurological physical and mental conditions including Autism. It has reached out to over 2000 families through programmes such as (a) Centre for special education (b) Home Management (c)Counselling and guidance (d) Physio & speech therapy (e) Vocational training and employment ( f) Staff & Parents training (g)Public Awareness (h)Extension work in other districts of Rajasthan.
The organization is recognized by the State & Central government. It was given the State Award for Outstanding services in the field of Disability by the Govt. of Rajasthan India.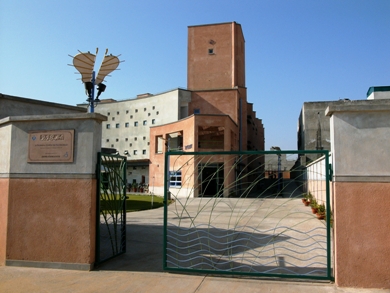 Presently it is housed in its own building which has been specially designed with total access for persons with multiple disability for the purpose of education, training and rehabilitation of such persons. The money for constructing this building has been donated by the Nando Peretti Foundation.
(photo below) Teacher and Students at the new facility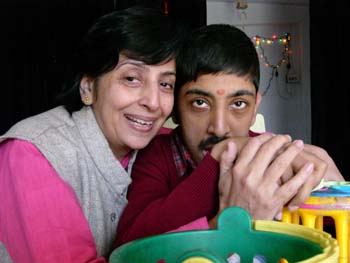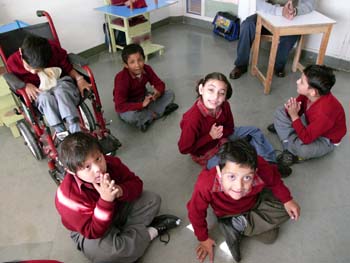 all photos on this page by Antonio Nodar