Costruction of a New Building at the Disha Center for Disabled Children
Project location: INDIA, Jaipur
Project start date: July 2002 - Project end date: This project covers various years
Project number: 2001-20
Beneficiary: DISHA
all photos on this page by Antonio Nodar
Annual Report 2000-2001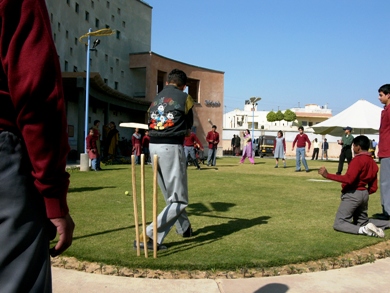 On 26th Jan.2000 Disha was given the State Award for outstanding work in the field of disability. This added a lot of impetus to the services and programmes. The academic year 2000-2001 was full of activities, events and development programmes. Details of which is given as follows :-
Centre for Special Education
The School moved into a much larger hired building giving space for many more activities . Eighty four students with Cerebral Palsy, Down Syndrome, Minimal Brain dysfunction, hydrocephally and other neurological conditions were divided into twelve groups under 3 major streams namely the academic groups, Functional education groups and Special groups.
Academic Groups : Disha became the first Special School in Rajasthan to receive accreditation from National Open School (N.O.S) curriculum. Twelve students from two groups appeared for the level A (Equal to 3rd Std ) and level B (equal to 5th Std. ) Exams Eleven out of twelve passed in first division, making every one at Disha proud . The entire curriculum was covered through Worksheets, Concrete experiences and supporting text books. The over whelming success has boosted the morale of the academic groups who are preparing for the next exam with much more confidence and enthusiasm .
Functional Education Groups :- Five groups under the functional education stream followed specially designed curriculum covering (a) reading and writing of one language (b) Comprehension of Second language, (c) Time, money and measurement concepts (d) Awareness of environment. A special project on water was covered through out the school for the entire year, covering topics like draught rain, source of water , how water reaches our homes , saving water , water pollution , water animals etc.
The entire curriculum was covered through the Individual Education Plan (I.E.P)
Special Groups :- The major focus in these groups was on activites of daily living (A/.D.L), two way communication, Awareness of environment, socialization, exposure to reading skill One of the Special groups with most profound disability were given the day-care programme.
Co- Curricular activities. :-Regular Music. Drama, sports, Art & Craft, painting classes are integrated into every day curriculum. A lot of teaching is done through these mediums. They are the highlights in the curriculum of special and functional education groups.
Integration in mainstream schools
Effort is made to integrate one/two students from Disha into mainstream schools each year. After successful integration of Devender Singh last year, Prachi has been integrated this year bringing the total of integrated students to 6.
A number of children with mild disability are directly referred for integration and support is provided to the school for any special needs.
Therapy Department :- Physio and occupational therapy
Speech therapy
Physio & occupational therapy :- One full time and one part time physiotherapist worked under the guidance of a Senior consultant therapist , to provide ,
a) assessment
b) therapy
c) posture training
d) gait training
e) gross motor experiences
f) selection & training for mobility aids
g) designing special furniture
h) referring cases for surgery & providing post surgery care & therapy
i) constant maintenance & use of prosthetics
j) parent training for management & therapy at home .
Speech therapy :- This area has not been developed to satisfaction due to lack of trained staff in the field . A speech therapist for 4 months and a language trainer for 6 months covered .
a) Assessment
b) Language stimulation
c) Individual and group therapy sessions
d) Development of augmentative communication aid
e) Feeding and pre speech activities.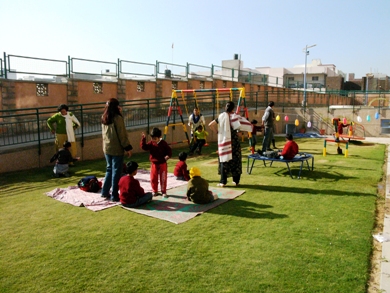 VOCATIONAL TRAINING
Food production :- 5 girls and one boy from the Home-Science class had cookery practicals daily where the students learnt to prepare snacks, meals, making of sharbats, pickles etc. They are now ready to be assistants to a cook. This year Baking is being added in a big way .
Screen Printing: - A screen printing unit was set up to train two boys with down syndrome in the field. They printed visiting Cards, letter heads invitation cards and designer stationery .
Hand made paper products :- various products like designer envelopes , Carry bags, gift wrapping papers etc. were made using recycled handmade paper. All products were highly appreciated and the area could be developed into a production unit.
House Keeping :- Two students completed their 9 months training in Housekeeping from Khasakothi (R.T.D.C Hotel ). One of them has been employed by Clarks Amer, a five star hotel, in the housekeeping Department .
Beauty Care :- Two girls took up a short training in beauty care and self grooming at one of the leading parlours " Kaya Kalp" .
Carpentry :- Five boys from prevocational class went twice a week for 5 months to furniture shop " Akar- Prakar" to learn carpentry. It was like a hobby class as none of them could take it up for vocational training.
Per mache :- Papers that are generally thrown away and old news papers were used to make pulp . The severely disabled tore the paper and others made the pulp and moulded candle stands , boxes , trays , bowls out of it , that were painted & polished . This could also be developed into a full unit .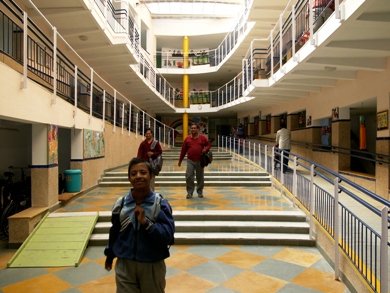 RESEARCH
1. Major research project supported by the Human resource development Forum of Jaipur was undertaken to study the possibility of "employment possibilities for adults with disability in Jaipur." The data collection and analysis is completed and it is at the stage of report writing.
2. A second project to adapt special clothing for persons with Cerebral palsy was undertaken by a P.hd student. Special dresses were designed for 8 children with Cerebral Palsy .
STAFF-TRAINING
A one week workshop was conducted for staff in June as refreshers programme by " Bodh Siksha Samiti" covering topics like philosophy of education, methodology, project planning alongwith very interesting workshops on music and puppetry.
Every day, after the students leave , all staff stay back for 1 ½ hrs for developing IEP, under guidance . Several workshops, lectures , case studies, discussion sessions are also held during this time. This has really helped in building quality staff and in turn maintaining high standards in school.
Staff have also attended several conferences/ workshops/ training programmes organised locally and at national level.
HOME MANAGEMENT
For outstation students.
For children with special needs integrated in mainstream schools
For special children not attending school.
Individual sessions for assessment, guidance and counselling of parents are held 2-3 afternoons every week for the above children. Over 150 children from Jaipur, other cities of Rajasthan and other states have been reached out through the year .
A very close interaction is maintained with principals of mainstream schools to discuss and support the programmes developed for integrated students in their schools. They are being encouraged to set up a resource lab or have a resource teacher to take care of special needs.
SOME EVENTS
Painting exhibition :- A Painting exhibition was organised with the help of Friends of Disha (F.O.D ) at Rajputana Sheraton Art Gallery. 150 paintings done by students were exhibited. The exhibition was inaugurated by Mr. Satish Gujral who specially came down for the occasion. 135 out of 150 paintings were sold out. All the co-ordination work for this seven day exhibition was done with help of F.O.D members .
Annual Function :- A stage performance based on Panchtantra stories was put up as part of the Annual function in Jan. 2001. The play was directed by Mr. Faizel Alkazi, a well known name in field of Drama.
All students participated and the entire step by step process of training the students for dialogues, actions and co-ordination took almost 3 months.
The show was witnessed by a hall full of 800 audience including some leading citizens, Principals of mainstream schools, Parents, F.O.D members, Govt. Officials, Welfare groups, Media persons etc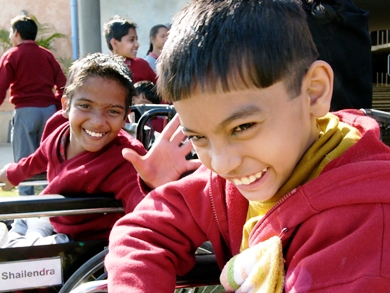 all photos on this page by Antonio Nodar
Parties :-
v A Dussera party was organised by Army School where students saw scenes of Ramleela, burned Ravan and danced with the students of the school.
v A Diwali party was organised by clarks Amer hotel with plenty of entertainment and eats.
v X.mas party was organised by at the farm house of one of the parents.
Envoronment :-
¨ Students participated in two environment related projects , one was an awareness march to ban plastics and another a tree planting day at "The Haveli" near Amer fort .
¨ Fun fairs :- Stalls were putup at fetes organised by Shubham club , M.G.D. School , Mahaveer School where students displayed & sold products made in the vocational training unit .
¨ Earthquake relief :- Students collected clothes , utensils , food items and staff donated one day's salary for the earthquake victims in Gujrat . One of the parents hired a truck & personally distributed the above to the victims in villages around Mansa . I