Costruction of a New Building at the Disha Center for Disabled Children
Project location: INDIA, Jaipur
Project start date: July 2002 - Project end date: This project covers various years
Project number: 2001-20
Beneficiary: DISHA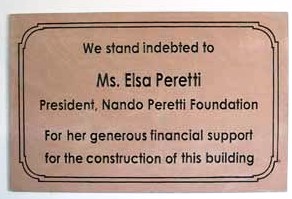 (all photos on this page by Antonio Nodar )
Annual Report 2001-2002
The year began with much jubilation as eleven out of the first batch of 12 students who appeared for their Board exams through the "National Open School" passed with 1st Division. Rahul Thankur who stood first, secured 91% marks. This provided the required encouragement and confidence to both the students and staff. The second batch of 4 is ready to appear in April 2002. Another major milestone was added when a separate "Work Training Unit"with 12 trainees was started at F-139 Shyam Nagar, Jaipur. A group of 12 students with Autism were added to Centre for Special Education making DISHA the first school to reach out to children with autism in Rajasthan.

Open employment for 3 students and possibility for employment for another 2 made it a land mark year for employment at Disha. The public awareness campaign on "Access for Disabled" got a fairly good response when several public places put ramps for wheelchairs and some constructed special toilets. Staff training dept took a major leap with the completion of all the formalities to start the One Year Diploma Course D.S.E(C.P) recognised by Rehabilitation Council of India, New Delhi, to be started in July 2002. Two staff members went to U.K. for 3week training programme and several others attended over a dozen seminars and conferences at local and national level. Two major training programmes for parents were also conducted details of which are given in the following detailed report of all the services during the academic year 2001-2002.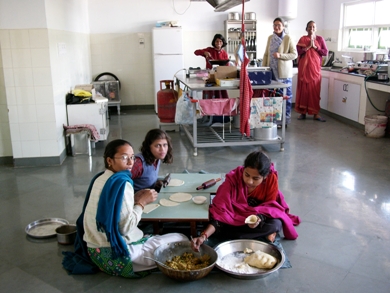 CENTRE FOR SPECIAL EDUCATION
The New Academic session started on 1st July with 95 students divided in five major groups.
i) Academic Group
ii) Functional Education Group
iii) Special Group
iv) Day Care Group
v) Special group for Autism
Each group is further divided into sections as given below :
GROUP
SECTION
NO. OF STUDENTS
STAFF IN CHARGE
1.Academic group
Std VI /VII
Std IV
Std II /III
Transition
6
6
7
7
Ms. Kamini Rai
Ms. Divya Singh
Ms.Rashmi Shekhawat
Ms. Mandakini Bhati
2. Functional group
Group. I
Group II
Transaction (SP)
Nursery & reception
7
7
6
16
Ms. Anju Soni
Ms. Sunita Adnani
Ms. Pooja Sharma
Ms. Aarti Tiwari
Ms. Subrata
Ms. Shelly Sharma
3. Special group
Group-I
Group-II
8
6
Ms. Deepa Rathore
Ms. Harshada Singh
4. Day Care
-
9
Ms. Sunita Sharma &
Ms. Suman kumari
5. Sp.Group(Autism)
-
11
Ms. Romina Pitamber& Santosh
6. Vocational training
Work Training Unit
12
Ms. Pramila Jain
Ms. Praniti Dewedi.
The Academic groups :- followed the regular board Curriculum . The Minimum levels of learning and question banks are sent by the National Open School office based on which a curriculum is developed for each class and text books selected. However, all topics are covered through interactive method of teaching with hands on practical experience, several worksheets are developed and practice is also given in written expression . Special classes are also held to prepare for the Open board exams. 3 students appeared for level "A" and one for level'B' . The success of the previous batch had given the staff and the students much confidence and we expect similar success.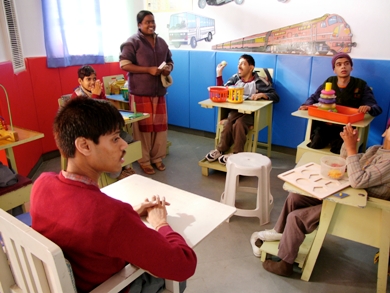 Functional Education:- Curriculum is prepared each year according to the functional level of each child. In Maths concept like money measurement and time are covered very practically, in language, reading and writing of one language and understanding a second language while in E.V.S , Awareness of one self and environment are covered through project method. This year's project was on "My self" where students learnt about their bodies and its functions, various body systems , their family, school and neighborhood. Prevocational Skills, art along with painting music, cooking, sports also form part of the curriculum.
Special Groups:- The main objective of the groups is to facilitate students to be as independent as possible in taking care of themselves and their environment, hence major aim is to help develop 'Skills in activities of daily living' and building two way communication apart from socialization, and pre vocational training . Most of the students may not go up to the level of employment and would need a day care programme.
Day Care Programme:- Students who have not been able to achieve the planned goals and were mostly above the age of 15 yrs were shifted to the Day Care Programme where the main objective is to be happy, learn to communicate and be with friends , perform their A.D.L. activities and participate in all school activities and functions.
Special Group for Autism :- As there were no services in the entire State for Children with Autism, it was decided to start a separate section in C.S.E reaching out to this very difficult and un -reached condition. Two teachers were trained in Delhi last year, one of whom, started the section in July this year. A special curriculum was developed where special methods of teaching were used 11 students attended the programme making, Disha, the first organisation in Rajasthan to reach out to this very difficult and unknown conditions.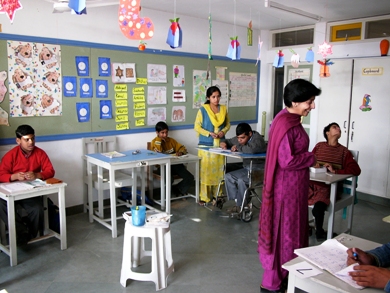 PHYSIO THERAPY DEPARTMENT
Approximate 55 students required assistance from the therapy department. 25 were in wheel chairs and 22 could walk with assistance. Regular therapy, posture training, gait training, gross motor experience were given. Special furniture and mobility aids were also given. 5 cases were referred for surgery. Regular parent training was also conducted for parents to facilitate home management.
Speech Therapy :- A full time speech trainer worked on language stimulation and training. Some correction cases were referred out for therapy. Group sessions for pre speech exercise and language stimulation were woven into the regular curriculum.
HOME MANAGEMENT
For outstion students.
For Children with special needs integrated in mainstream schools
For Special children not attending school.
Individual sessions for assessment , guidance and counseling of parents are held 2-3 afternoons every week for the above children . Over 100 children from Jaipur , other cities of Rajasthan and other state have been reached out through the year.
A very close interaction is maintained with Principals of mainstream schools to discuss and support the programmes developed for integrated students in their schools. They are being encouraged to set up a resource lab or have a resource teacher to take care of special needs.
WORK TRAINING UNIT AND EMPLOYMENT
A Separate unit was started in July with an objective to prepare young persons with disabilities, for employment .The unit started with 12 students from Disha Centre for Special Education, between the ages of 17-20 years who were ready for employment and could not achieve further academic goals. Out of the 5 models of employment generally followed, 2 models namely ( 1) Open Employment (2) Employment through contract work under supervision were followed.
Open employment saw a land mark success when 3 out of 12 students got employment. Ashish is working in the housekeeping department at Clarks Amer, Neelu Shah is Lab Asst. of home-science at Children's Academy and Rakesh is working in the packing dept. of an export house. Two others are getting ready for similar jobs.
Four areas of Vocational training were started with an objective to not only train young adults with disability to master the job skills but more importantly to develop work habits like (I) Complete a specific production target (ii) Develop work discipline like punctuality, regularity etc. (iii) follow directions (iv)carry out simple jobs independently and responsibly (v) Social relation ship with colleagues etc etc. The four areas chosen were :-
(a) Cookery
(b) Screen Printing
(c) Stitching
(d) Hand made paper products and paper Mache.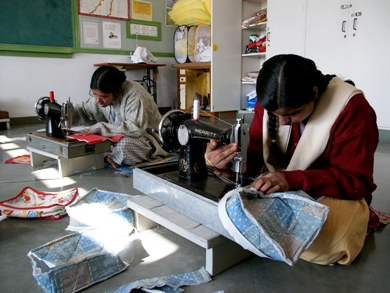 Some other Crafts like candle making were also tried. A small outlet was also setup for display of ready products for exhibition and sale. Several stalls were put up in school fetes, individual sales, sales counters in some leading stores also helped in sale of products.
Catering unit proved very successful with products like Sharbats, pickles and snacks. A major break through came when an order for high protein Ladoos (Soyabean) for school nutrition programme in Khejari villages was placed 200 kg of soyabean ladoos are supplied every month under the programme. Several items were developed in hand made paper products and were well appreciated. Stitching unit is picking up slowly as the trainees are mastering the skill by making simple products like aprons, carry bags, toilet kits, napkins etc. The screen printing unit did not prove very successful due to lack of availability of good instructor and competition in market.
STAFF TRAINING
A short training programme of one week is organized every year before the school reopens in July. This year Dr. Mrs. Thapar conducted a 4 day work shop on simple exercise of yoga and Dr. S. Sitaraman gave lecture on medical aspects of Cerebral Palsy.
The Director, Principal and staff attended several seminars, conferences and training programmes, during the year, details of which are as follows :
S.No.
Date
Title
Organizer
Attended by
1.
16,17th July
Access of Special Needs
Disability commissioner New Delhi
Mrs. D.Kalra
2.
25th July
Exchange Programme
British Council at Clarks Amer
Mrs. D.Kalra
3.
28th-30th July
Bakery Course
Catering College
-
4.
July- March
Series of seminars on early childhood education
M.S.M.S.V. Jaipur
Ms. Deepa Rathore
5.
22nd-27th August
Bakery Course
Clarks Amer
Ms. Pramila Jain and Praniti Dewedi
6.
6th October
Rights of disabled
Disability Commissioner Rajasthan
Mrs. P.N.Kavoori
Ms. D. Kalra
Ms. Romina
7.
18th October
Management of Autism
Action for Autism New Delhi
Ms. Aarti Tiwari & Ms. Anju Soni
8
18th October
Heritage & students
INTAC
Ms.PN.Kavoori Mrs. D.Kalra
9
22-24th Nov.
International Seminar on Alternate and Augmentative communication
I.I.C.P Calcutta
Dr. V. Bisht &
Mrs. D.Kalra & Dr. Viji Bisht
10
9-11th December
National Seminar on Cerebral Palsy
NIMH- Dehradoon
Ms. Romina &
Ms. Praniti
11
5th-7th April
Management of Autism
Disha & Action for Autism
All Staff
12
18-21st April
Entrepreneur ship
I Create, Jaipur
Ms. Pramila Jain
2 Staff went for a 2 weeks programme to U.K , sponsored by E.A.S.T, U.K. They visited 9 institutes for rehabilitation of persons with Cerebral Palsy & Autism alongwith visit to St. Crostopher., London
It is planned to start a regular 1 year Diploma in Special Education (D.S.C (C.P) )in affiliation with Rehabilitation Council of India from July 2002. This could be the first course in entire Rajasthan.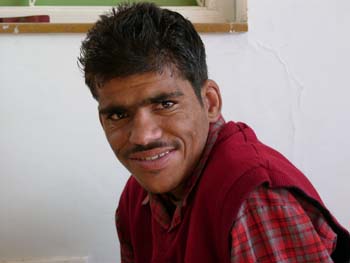 all photos on this page by Antonio Nodar
PARENT TRAINING PROGRAMME
Two parent training programme were organized during the year.
(1) One week programme for parents of young children with cerebral palsy. 21st-27th November. Twenty parents who had young children with cerebral Palsy underwent a one week training programme with an objective to give knowledge about the condition, it's prognosis, treatment and management. Several sensitive issues like parent's fears and emotions were also discussed in the last few sessions. This also helped the parents to come close to each other
.
(2) Three day workshop on management of Autism 5-7th March. A three day workshop was organised in collaboration with 'Action for Autism', New Delhi, to help parents understand the condition, its management and prognosis. Three experts from Action for Autism Delhi, Mrs Merry Barua, Mrs Indu Chaswal and Mrs. Shikha Kaushik were part of the team of experts.
The inauguration was attended by all the parents where the Disability Commissioner of Rajasthan Shri Damodar Thanvi spoke about the National Trust Act.
RESEARCH
The Research Project on "Employment possibilities for adults with disability in Jaipur" was completed. The information collected during the study gave basis to move forward in all models of employment now and in near future. The study was sponsored by H.R.D. Forum of Jaipur.
PUBLIC AWARENESS
A major project on ACCESS for disabled was undertaken for the entire year. Several write ups in local Newspapers, Magazines, T.V. Channels were given, followed by individual meetings with owners of Cinema halls, Hotels, Shopping walls , Railway Station, Hospitals, Banks etc. Eight Access audits were conducted with the Disability Commissioner's Office supported by Action Aid. This spread a lot of awareness among public and a number of ramps and other facilities were set up.
Future Plans
Immediate plans for the academic year 2002-2003:
1) Construct a specially designed barriers free building with complet access: is being done.
2) Start the one year diploma D,S,E (C.P) recognized by Rehabilitation Council of India, New Delhi :- Started working on 1st July, 2002
3) Build the O.P.D & Home Management department. Started working on 1st Oct. 2002.
CALENDER OF ACTIVITIES
Academic year June 2001 - May 2002
| | | |
| --- | --- | --- |
| S.No | DATE | ACTIVITY |
| 1. | 25th-30th June | Staff Training |
| 2. | 7th July | F.O.D .Meeting |
| 3. | 16th & 17th July | Conference on Access organised by Disability Commissioner, New Delhi attended by Mrs. D.Kalra |
| 4. | 21st July | Series of workshops organised by M.S.M.S.V, Jaipur for teachers of pre-school. Attended by Deepa Rathore. |
| 5. | 25th July | Workshop organised by British council, New Delhi to promote 'exchange programme, attended by Mrs D. Kalra |
| 5. | 28th-30th July | Bakery course organised by Catering College for staff and students of work training unit. |
| 6. | 4th August | Raksha Bandhan-Students from M.G.D tied Rakhis and distributed sweets to students. |
| 7. | 14th August | Students organised Independence day. |
| 8. | 17th August | Hare Krishna dance troupe performed "Krishna Leela" for students on occasion of Janmashtami |
| 9. | 18th August | Learning & writing Skills.- work shop |
| 10 | 22nd - 27th August | Short training programme for staff of works training unit was organised in Bakery by Clarks Amer. |
| 11. | 1st September | Project on Access Begins. |
| 12. | 3rd September | Farewell to AIESEC Volunteers |
| 13. | 5th Sept. | Teachers day celebration. by students. |
| 14. | 15th Sept | Workshop- Reading and writing skills. |
| 15. | 18th Sept. | Golcha Cinema hall made a ramp which was inaugurated by Ms. Beena Kak. 25 students were shown a special show. |
| 16 | 28th Sept | Visit of 20 M.Sc. students from Jodhpur University , Deptt. Of Home Science. |
| 17. | 4th October | 4 P.G. Diploma students from IIHMR visited Disha |
| 18. | 6th October | Work shop on 'Right of disabled' organised by Disability Commissioner's office . Paper presented by Mrs. Kalra |
| 19. | 16th October | Stall at M.G.D |
| 20. | 17th October | Kamini Rai & Pramila Jain visited U.K. for 2 week training programme. |
| 20. | 18th October | Seminar on planning projects for school students on preservation of Heritage, organised by Intach. Director and Principal attended |
| 21. | 18th-22 October | 2-Staff attended the National conference on Management of Autism , organised in Delhi by "Action for Autism" |
| 22. | 20th October | Stall at M.S.M.S.V fete |
| 23. | 23rd October | Dussera Celebration at Army School |
| 24. | 23rd October | Access audit at S.B.B.J |
| 25. | 3rd Nov. | Workshop- Cognitive development attended by Deepa Rathore |
| 26. | 5th November | Access Audit at Maharani College. |
| 27. | 5th November | Inauguration of ramp & facilities for disabled at Clarks Amer.20 students and 5 staff attended |
| 28. | 8th November | Access Audit Railway station |
| 29. | 9th November | Inauguration of work training unit. |
| 30. | 21st-27th Nov. | Training programme for parents of young children with Cerebral Palsy. |
| 31. | 22-24th November | International Seminar on alternate and augmentative communication organized by I.I.C.P Calcutta in Taj Bengal Calcutta and attended by Mrs. Kalra & Mrs. V. Bisht. |
| 32. | 28th November | Orientation of students at ICG College, regarding Diploma D.S.E (C.P ) |
| 33. | 28th November | Workshop organized by UNICEF attended by Mrs. P.N.Kavoori. |
| 34. | 1st December | Workshop - Pre-Maths Pre Number concept. Attended by Ms. Deepa Rathore |
| 35. | 3rd December | Orientation of students regarding D.S.E(C.P) at Maharani's College. |
| 36. | 4th December | Students from M.G.D, Visit |
| 37. | 8th December | Orientation of students regarding Diploma in Special Education (C.P) at Kanodia College |
| 38. | 9th & 10th Dec. | National Seminar on Cerebral Palsy and mental challenged organized by Karuna Sadan , Dehradoon, Attended by Mrs Romina Pitamber & Ms. Praniti Dewedi. |
| 39. | 10th December | Visit of students from St. Cristopher School, U.K |
| 40. | 14th December | Access Audit of Collectors Office and Court. |
| 41. | 19th December | Access Audit of S.M.S. Hospital |
| 42. | 21st December | X mas Party |
| 43. | 5th Jan | Workshop- Story telling |
| 44. | 9th Jan | Visit to Mrs. Khanna's Garden. |
| 44. | 16th Jan. | F.O.D Meeting |
| 45. | 7th Feb | Annual Sports Day |
| 46. | 23rd Feb | National Seminar ib access organized by N.C.C.P. Spastics Society of India, Bombay. Mrs Kalra attended. |
| 47. | 2nd March | Workshop- Science Awareness. |
| 48. | 4th & 5th March | School trip to Ranthambore National Park at Sawai Madhopur. |
| 49. | 19th & 20th March | Student visited the painting camp at Clark's Amer |
| 50. | 26th March | Bhaskar T.V Covered Disha on their programme "My School" |
| 51. | 5th,6th, &7th March | Workshop on Management of Autism organized for parents and staff of Disha. |
| 52. | 30th March | Work Shop Parent involvement in class room |
| 53. | 10th April | S.B.I Officer's wives club visited Disha & Sponsored a child |
| 54. | 20th April | Workshop- Socio-Emotional Behavior at M.S.M.V attended by 1 staff. |
| 55. | 18th -21st April | Work shop on Entrepreneur ship organized by 'I Create' attended by Mrs Pramila Jain. |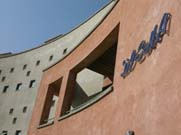 all photos on this page by Antonio Nodar