Beyond the Culture Edge : Musical Project in Portuguese and Italian and Production of Two CD-ROMs
Project location: ITALY
Project start date: February 2009 - Project end date: March 2010
Project number: 2009-20
Beneficiary: Associazione culturale "Fai la tua Parte"
Timeline of the present activity report: From October 2009 to March 2010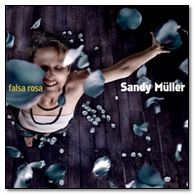 Falsa Rosa double cd's cover
Between October 2009 and March 2010, the graphic production of the previously recorded double cd, was completed by realizing the photos and the booklet of "Falsa Rosa".
Mauro Petito is the photographer that realized all the 11 shots each one representing a song of this cd. A great work of postproduction gave them a visual uniformity that reflects the continuity between music, words and images that the whole project looks for.
Sergio Pappalettera, one of the Italy's most important graphic artists, realized the booklet of "Falsa Rosa" in 24 pages. 22 lyrics both in Italian and Portuguese of the 11 songs are included in the booklet , as well as the 11 pictures related to these songs. Credit of the musicians that took part to the recording, and the ones of anyone who contributed with their role to the project are also reported. A page is dedicated to the
Nando Peretti Foundation
. Special thanks are addressed to Mr.s Elsa Peretti. The Foundation's logo appears in the same page, as settled on the grant agreement.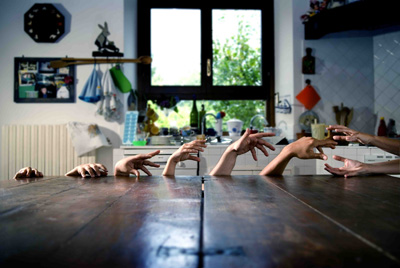 Falsa Rosa booklet's picture "l'uomo del futuro"
Caterina Monti is the web designer that realized the web site (www.sandymuller.it), using the same visual layout of the booklet. In the web site there is a section related the Nando Peretti Foundation reporting the same thanking page of the cd's booklet. The logo of the Foundation also appears as settled on the grant agreement.
30 copies of the cd heve been delivered to the Nando Peretti Foundation director, Stefano Palumbo.
Our grant agreement also included a live show to present the "Falsa Rosa" project. The initial intention was to make the show at the Auditorium Parco della Musica but eventually the association Fai la tua pArte, decided to realize it in one of the most important theatres of Rome, the Teatro Quirino Vittorio Gassman.
The profound significance of the lyrics convinced the association that a theatre would be a more adequate place to communicate the messages included in the songs. The theatre is the "home of the words" and the Teatro Quirino Vittorio Gassman is the prestigious "word's home" we chose for such an important event. The Falsa Rosa songs carry important messages related to the necessity of facing the truth, even the most scaring one, as well as the role of music as a mean of people unification. In fact music should be considered a language capable of linking people from all over the world.
More than 500 enthusiastic people took part to the event including many journalists and critics.
Our association chose Carta da Musica as press office. Carta da Musica is specialized in diffusion of artistic events.