Financing the Writing of a Book on a Survivor's Fight Against Impunity for Human Rights Violations
Project location: UNITED KINGDOM
Project start date: August 2009 - Project end date: July 2010
Project number: 2009-24
Beneficiary: Juarez Cruzatt and Others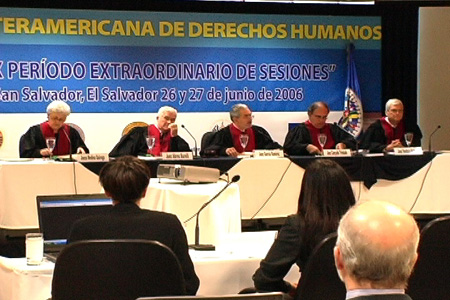 Lawyer Monica Feria Tinta, pleading the Castro Castro
prison case before the Inter-American Court of Human Rights
The present project, which consists on the preparation of a book, started its activities on 7 August 2009. 5 months into the working on this book, the activities of this project have focused on:
1. Carrying on some research on different examples of the treatment given in their narratives to their memories/experiences, by published survivors. This has implied reading survivor's memoirs, and comparing different styles of how these voices have found their own way to communicate their experiences. Attention has been given not only to the narrative concerning trauma and dealing with trauma in the aftermath of atrocities, but also to narratives describing examples of seeking justice and the description of such justice-unfolding path as experienced by the survivor. Of particular interest for the purposes of this project were few memories of survivors/jurists whose accounts have an additional perspective, that of the legal mind with a through understanding of the legal nuances of seeking justice, engaging at the same time at personal level with surviving atrocities.
Imbuing herself in such literature has helped the author to find her own voice and decide on a style that best fits her own narrative.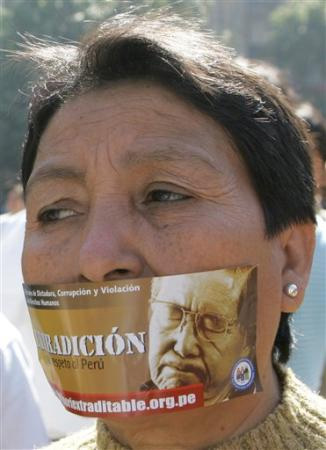 A mother of a victim of the Castro Castro
prison massacre seeking the extradition of
Alberto Fujimori in Chile
2. Selecting and organizing the reference material. Gathering, organizing and selecting the reference material for the book, has been part of this initial stage in the preparation of the book. This has implied going through sources covering a period of over 14 years as varied as personal correspondence, court files covering a period of nearly 10 years (Inter-American Court of Human Rights' and Inter-American Commission on Human Rights' legal proceedings), journalist articles, interviews, earlier annotations, personal diaries, pictures and other such material that will serve as raw material for the book, selecting those relevant for each chapter envisaged for the book, and organising their accessibility for the process of drafting. Such reference sources for the book are found mainly in Spanish and English although there are some additional recent sources found also in German.
3. Working on the general structure for the book. A creative process of deciding on a general structure for the book, identifying the key aspects and ground to cover, has been the first step taken in the actual drafting of the book. The author works directly word processing, preparing the structure of the book electronically. This general structure is the basis for the work and it is subject to changes -as in any creative work- as the book is written.
4. Drafting. Currently, the project is at the stage of drafting. The book is drafted in English. The aim is to complete the drafting for July 2010.