Increasing Livelihoods Options for Maya Communities and Species Conservation through 'melipona' Honey Production
Project location: MEXICO, Cancun
Project start date: January 2010 - Project end date: June 2010
Project number: 2009-57
Beneficiary: Travel Foundation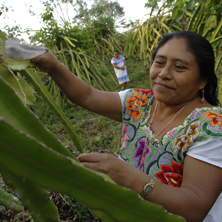 The aim of the Travel Foundation is to ensure that tourism brings maximum benefits to the people, environment and economies of host countries. Now in the 5th year of operation, Travel Foundation has successfully developed and implemented projects in 11 countries, improving livelihoods for local people, helping to protect the natural environment and resources and keeping local culture and traditions alive.
Much of the work has focused on creating supply chain linkages between tourism businesses and small producers and suppliers - building the capacity of local people to help them benefit economically from tourism development, and increasing the availability of locally-produced goods and services, while helping to maintain social and cultural integrity. Livelihoods projects of this kind have been set up in Sri Lanka, The Caribbean, Gambia and Mexico to date.
The Foundation works closely with local partners in destinations, including NGOs and government, and projects are developed and managed through multi-stakeholder participation ensuring that the needs of the local community are at the heart of the project.
One of the unique strengths of the Foundation is its close partnership with the travel industry. This ensures that any new livelihoods projects that are developed meet the needs of the industry and has its support. In our experience, community-based projects often fail because the demands of the market are not sufficiently taken into account.
The Travel Foundation work in Mexico is focused on the Yucatan region, around the coastal resorts of Cancun and the Riviera Maya. Projects are managed on the ground by a local staff team, supported by a steering committee. One of the key objectives is to create new income-generating opportunities for Maya people to earn an income from tourism, while enabling them to remain within their communities, rather than migrating to the tourist areas for work. In partnership with Amigos de Sian Kaan (a local NGO), Travel Foundation has identified a number of communities who are keen to develop their skills and create new micro-enterprises. The first project focused on the creation of 'jungle' jams, made from native forest fruits such as pittaya (cactus). A kitchen has been established, training in business skills, health & hygiene etc. has been delivered and links established with a major hotel in the region. The first harvest is due shortly and it is expecting the jams to be in the hotel by the end of the year.

Honey from the stingless 'melipona' bee has been harvested by the Maya people for centuries, and plays a significant role in Mayan culture. Over the last 25 years, melipona beekeeping has declined by 93% in the Yucatan. Low production levels (compared to the African bee) and limited access to markets means that the tradition, the species, and a number of native plants only pollinated by melipona bees, are in danger of dying out. Providing technical support to these communities to make 'melipona' beekeeping economically viable will help maintain traditions, support biodiversity conservation and improve livelihoods opportunities.

Currently, 'melipona' honey is mostly sold locally at markets. Transportation costs plus low selling prices locally mean that the income generated is very small and many families supplement their income through low-paying jobs within the tourism industry. This entails long journeys to the resorts or even relocation away from their families. Although the tourism industry presents a potentially lucrative market for this honey, there are a number of challenges:
a) capacity to supply at volume -melipona bees typically produce one tenth of the honey produced by African bees.
b) competition - local honey producers' associations (cultivating African bees) are well established
c) production standards - communities lack the equipment and training to produce honey to meet required health & hygiene standards
d) business and marketing knowledge - lack of technical 'know how' to develop and market their product to the tourism industry.
Despite these challenges, there is a real interest from communities to work with the Travel Foundation to develop their product and supply new markets. Since lower production levels, compared to African bees, is a major limiting factor in the communities' capacity to supply honey as a food item, the focus will instead be on creating 'value-added' products. Several meetings have been held with tour operator partners and their hotels and a number of businesses are interested in purchasing spa products and toiletries made from melipona honey.
The Nando Peretti Foundation has awarded a grant to Travel Foundation. Working initially with a community in Benito Juarez, the Travel Foundation will
a) review current production methods to maximise volume and regularity of supply. This will include pollination potential, use of bee boxes etc.
b) assess equipment and infrastructure needs to meet health & hygiene standards. This will include utilities, buildings, harvesting and bottling equipment.
c) assess training needs.
This work will be undertaken by technical specialist in melipona bees.
A product development/marketing expert will also be brought in to work with the community to agree which 'value-added' products should be developed, and the best way to market them. The potential to develop bees wax-based products, e.g. candles, will also be explored. Product samples will be presented to interested hotels to secure their support and commitment.
In order to create economies of scale, the potential to establish Chumpon as a central processing facility will be assessed, bringing in and providing incomes to other melipona honey-producing communities in the region, and ultimately setting up a network.
Once this initial assessment and development work has been completed, additional funds will need to be secured to purchase equipment, deliver training etc. As part of this initial work the Foundation will investigate opportunities to access free or subsidised training from Government bodies and other agencies, as well as sponsorship and in-kind support for the project. For example, funds for equipment and training for the 'jungle' jams project mentioned earlier has been provided by our tour operator/hotel partner in return for 'exclusivity' of sales.
The anticipated outcomes for this initial work are:
• A knowledge of infrastructure, equipment and training needs required to produce 'added value' honey/wax products for the tourism industry
• Agreement within the community regarding which products to produce and how to market them.
• An understanding of how best to set up this project to incorporate and provide economic benefits to other melipona beekeeping communities
• Agreements in principle secured with hotels to purchase the products
• Funding options for equipment, training etc explored and potentially secured.