Special Olympics
Project location: ITALY, Marche
Project start date: December 2007 - Project end date: This project covers various years
Project number: 2007-10
Beneficiary: SPECIAL OLYMPICS ITALY
[2009-42]

Educational courses on disabilities, training courses for coaches of people with different abilities and volunteer recruiting.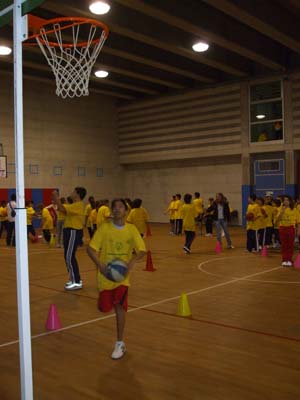 This project co-funded by the Nando Peretti Foundation includes a set of interlinked subprojects and develops through the 2009/2010 sports season, in coincidence with the school year. It is aimed to eliminate differences by proposing a new vision of intellectual disability; it is implemented in schools and works with new generations, in order to recruit new athletes and volunteers. Meanwhile it offers training courses to adults to recruit trainers, coaches and volunteers. National Winter and Summer Games, as well as the European Football and Basketball weeks will represent important events where to verify and celebrate the ongoing project.
The "School - Unified Sport" project, with teams composed of disabled and non-disabled kids, aimes to motivate youth with and without intellectual disabilities to break the barriers, make new friends and enhance the creation of a more open and welcoming society. The project is carried on in several schools and pursues the general objective of Special Olympics, that is to promote and educate to know the disability and highlight its importance as a resource for society.

Following a period of intense trainings, the unified teams will be able to participate in two important events, simultaneously held throughout Europe/Eurasia: the European Football Week, unified soccer tournament held between end of April - beginning of May. And, secondly, the European Basketball Week, the basket tournament held on the first week of December.
Despite all this work, there is still a lot to do in order to make disabled people included and accepted. For this purpose, our work is focusing specifically on schools and younger generations who represent our future society, and on trainings of future Special Olympics trainers and coaches.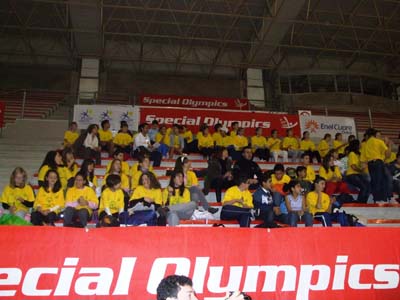 The project "Reset the differences", presented by Special Olympics Italia, is a complex project which includes a set of subprojects organically interlinked and which are:
- "School Project": addressed to all grades and types of schools, it pursues the general Special Olympics objective, that is to promote and educate to know the different ability to highlight it as a resource for society.
- Each school can develop the program and adequate it according to its own needs, as well as include it in the Educational Plan. The project starts from the interest of the teacher who completes a training course, being interested in becoming acquainted with Special Olympics objectives and working methods. The practical steps of the project, which take into account the 2007 "New national guidelines for Curricula", include both theoretical preparation, pertinent with the other subjects, and an action phase where practical commitments are requested. The activities are aimed to integrate intellectual disability in the society through sports and the establishment of a school team: a group of teachers, non-teachers, family members and volunteers are organized around the disabled students or they are trained to support local teams in carrying out Regional and National Games.
- "School Project" is tightly linked to the "Unified Sports" Project: it involves both Special Olympics athletes and non-disabled Partners, and its purpose is to put at the same level people with similar abilities and age. Participating in Unified Sports offers to Athletes and Partners the possibility to live an enriching experience through the active involvement in "play together" activities, aimed to share emotions and live joyful moments, to help each other and to re-create situations of perfect social inclusion.

- These are the events where schools and unified sports Teams will participate:
• EUROPEAN BASKETBALL WEEK: 28 November - 6 December 2009
• EUROPEAN FOOTBALL WEEK: April 2010

- "Volunteer Project" originates from the consideration that volunteering is fundamental for social progress and for the community; it also represents a basic feature for the activities of Special Olympics Italia, which chose an active volunteering that could bring "on the field" the people involved, so that they can experience strength and positive of their actions for and with intellectual disability, often perceived as a negative diversity. Volunteers are recruited in schools, universities, partner companies, associations.
- Technical and methodological training for teachers and professors; Special Olympics Italia organized the first training course for first grade coaches, subsequently involved in regional courses and in those organized by National Sports Federations, Sports Promotion Companies and other Associations, from 28th February to 1st March 2009. In October and November 2009, the second grade course will be organized and, in some regions, the third grade as well. They are aimed to prepare the foundations for enhancement and diffusion of Special Olympics, beginning with a strong effort to train managers, coaches and doctors. Within this training project, we want to set up a more and more feasible idea, to re-activate the "Training and Studying Unit" that could develop, organize and share the knowledge related to the organization.
- Volunteer Project, as well as School Project and coaches trained by National Trainers-Coaches will participate in several events to celebrate their achievements: Winter (Pinzolo 2010) and Summer (Monza 2010) National Games, European Football Week (April/May 2010 throughout italy) and European Basketball Week (November/December 2009 throughout Italy).

The project will involve at least 100 schools, the planning of at least 5 training corses and the recruiting of at least 1500 volunteers