Supporting the Antiviolence Toll Free Number "Mai più Sola" for Abused Women
Project location: ITALY
Project start date: September 2007 - Project end date: This project covers various years
Project number: 2007-02
Beneficiary: ACMID DONNA ONLUS
What is Acmid Donna
Acmid Donna Onlus, acronym of the Association of Moroccan Women in Italy, was founded in 1997 by Souad Sbai, journalist and activist for women's rights. The idea of creating Acmid comes directly from the exponential growth of cases of violence against North African and Arab women in Italy. These women, especially in the second half of the 90's, began to be abused by husbands, partners, brothers or members of the their communities, obliged to respect pseudo-religious traditions. If they refuse to wear the veil or get into polygamous marriages or oppose oppressive lifestyles, these women have to face heavy consequences. This growing extremism led Souad Sbai and other activists for human rights to found Acmid, a point of reference for women and girls of the second generation whose life is gradually becoming a real hell.
After several years of activity, based on the experiences in direct contact with the community and families, Acmid decided in 2007 to create officially the Toll Free number "Never Again Alone" (Mai Più Sola) 800-911-753, an anti-violence number, which answers 24 hours a day for women in distress and victims of violence or abuse. With the essential support of the Nando Peretti Foundation, which immediately became partner in the project, unique in Italy because it responds not only in Arabic but also in the various Arab dialects, "Never Again Alone" is today able to give hospitality to the various requests coming from the two extremes of the Arab world. Since 2007 Acmid received, through the Toll "Never Again Alone" , 23,000 calls from women in distress or looking for help after an experience of violence or abuse.
YEAR 2012 - FINAL REPORT
During the year 2012, the trend of calls has performed in a particular way, especially in relation to the previous reports. Until last year, most of the calls was recorded in the summer, in the months between May and October.
TOTAL CALLS 2012 - 8401

We can see from the graph on the distribution of calls that the summer period does not exceed the so-called "intermediate periods", that follow or precede the end of the year. In the past, the peak of calls occurred in the summer months. Going into the details, home trips often culminate in the confiscation of documents for women who refuse to live in conditions of oppression. It means that women cannot go back home and see their family, until they comply with the strict rules imposed by husbands or boyfriends. In the summer, husbands or boyfriends are at home, since it is the holiday season. Proximity is a time bomb for women refusing veil or niqab (full and not-Islamic veil). The reaction is always violent. In 2012, the trend has seen a remarkable homogeneity in terms of months. The actual distribution of calls is due to a general increase of violence cases against women, even non-Arab. Growing domestic extremism deforms women's life, psychology and the continuation of the relationships. Let's go into detail about objects of the calls handled by the operations center of "Never Again Alone":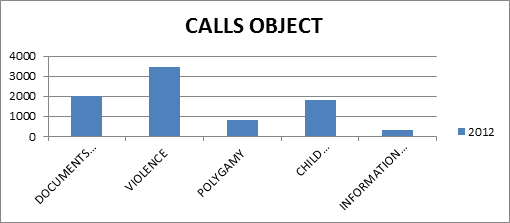 As we can see from the analysis of the schedules, the "cases of calls" can be summarized as follows:
• VIOLENCE: physical abuse, psychological abuse, sexual abuse, oppression, segregation, violence, injury, stalking, threats, murder, female genital mutilation
• DOCUMENTS ABDUCTION: Subtracting passport, position in illegal status
• CHILD ABDUCTION: child abduction
• POLYGAMY: obligation to get to polygamous marriages, "orfi" weddings
• INFORMATION REQUEST: Information for documents and procedure about divorce, separation and custody of children
Regarding geographical distribution of calls and cases, we can underline a sort of re-distribution throughout the whole of Italy; in previous years North Italy was the largest producer of violence cases against Arab and Moroccan women. In 2012, South Italy has grown progressively in producing violence cases and calls to the Toll Free number "Never Again Alone". In North Italy, as national statistics show, there are a lot of immigrants working in factories and agriculture. This fact has stimulated immigrant communities to settle permanently in those areas: it shows the reason why most of the cases happened in North Italy. Let's go into detail to see what happened in the year 2012 in relation to geographic distribution of calls:
Data, therefore, is perfectly homogeneous in Italy. The settling of composite, and often closed, communities even in South Italy anticipates the radicalization of social customs in those areas, until now relatively immune from the phenomenon. The regions where this growth in cases of violence was registered are Puglia and Sicily; in this case, we have to underline the great importance of the Arab Spring, with thousands of migrants from Tunisia and Egypt, now settled permanently in areas until today not involved in the phenomenon. Regarding the age of the women and girls calling "Never Again Alone", 2012 has seen an increase in girls aged from 15 to 25 years:

We can explain these data with some anthropological and historical deductions. The second generation immigrants in Italy, especially thanks to social networks, can demand rights and openings in their communities. Communities that, at the same time, have tightened their positions in relation to what is wrongly called "Westernization" of the second generations. Dressing like their Italian counterparts, living together, falling in love with an Italian boy or girl are situations which happen often and are positive for teenage growth. However, in some immigrant communities, they appear as a violation of alleged traditional codes.
CALL HANDLING
The management of incoming calls to the toll free number "Never Again Alone" is the most delicate stage of the route that a woman victim of violence takes when it turns to Acmid. Operators of "Never Again Alone" are trained not only to answer calls, but also to understand where and how to send the requests. There is, in fact, a wide range of calls which "Never Again Alone" receives and which must necessarily be forwarded, according to requirements and possibilities, to suitable structures. In general, Acmid relies on the Police to solve the most difficult cases, and, alternatively, when the case can be solved with "lighter" intermediation, "Never Again Alone" can also act as a link with local authorities such as reception and territorial social services. Let's see into detail how the Toll Free Number has structured its activities in call management:

The constant and direct relationship with Police allowed to develop a real action strategy; in each case it has enabled security operators to achieve solutions in a short time. Police and Carabinieri have included Acmid with "Never Again Alone" in the list of enabled associations for assistance and support in prevention of cases of violence against migrant women. The reception centers are of particular importance in the management of calls; direct contact with the local host has allowed to find solutions for women who demanded immediate help, but at the same time had the opportunity to reach independently a safe place to stay.

For the State Social Services, especially in Rome, "Never Again Alone" played a dual role. Women in need of autonomy, in order to leave a life of violence and segregation, had the possibility to participate in activities of job replacement and vocational training. The Social Services sent three women to Acmid. This is the context of so-called "Civic Volunteer": "Never Again Alone" has allowed some women to return to more humane conditions and to work. Some women, however, were engaged as operators of the Toll-free number "Never Again Alone", obtaining very positive results.
Even in health services, "Never Again Alone" built an important relationship with hospitals and clinics thought the whole of Italy. The Mediterranean Institute of Hematology (IME) has structured with Acmid and "Never Again Alone" a collaborative relationship especially in sending to IME women with diseases related to the hematological dimension, typical of the Mediterranean area and North Africa. Especially in relation to mass migration from North Africa that characterized the years 2011/2012, Acmid has multiplied actions for women with hematologic diseases in collaboration with IME.