4 Generations Project: Cultural Education
Project location: KENYA, Laikipia
Project start date: October 2004 - Project end date: September 2005
Project number: 2004-19
Beneficiary: GALLMANN MEMORIAL FOUNDATION
all photos on this page by Antonio Nodar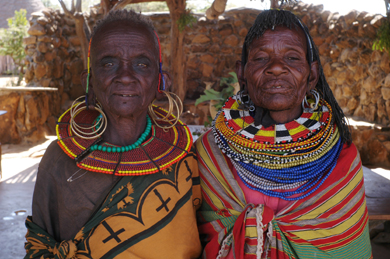 The Nando Peretti Foundation financed this project, which aims at preserving the endangered traditional tribal knowledge and culture of the inhabitants of the Laikipia region of Kenya, and to awaken a sense of pride in their African identity, by stimulating the children of primary school age belonging to the tribes of Kikuyu, Turkana, Pokot, Kalenjin,Samburu - to inquire in their own past, legends, myths and ancient knowledge, including music, dance, plants and animal lore, by involving all family age groups across 4 generations.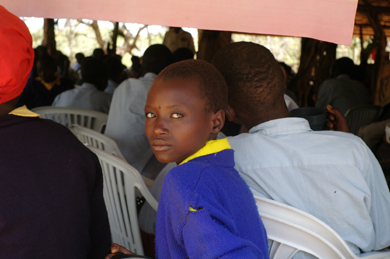 Kenya is a multicultural country with 43 diverse tribes, each with a different language and a wealth of traditions on which the very fabric of the African cultural values are based.
With the introduction of compulsory and free primary education in Kenya, however, young children spend most of their formative years far from their families and are no longer exposed to the knowledge of the elders. In one generation, invaluable cultural knowledge is lost and the price of literacy is the loss of identity and of the respect and interest for the wisdom of the elders which is the very fabric of African life.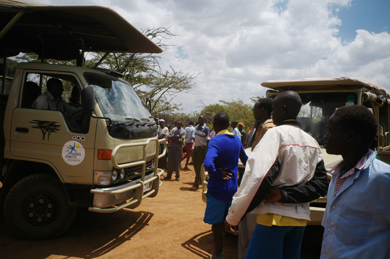 Through a system of incentives, lessons, cultural events, essays, plays, children of different tribes, selected amongst local schools, are encouraged to seek answers and to enquire into their own culture, while elders are invited to share their knowledge and are seen again as teachers. By stimulating inter-tribal relationship, young people learn to respect other tribes' traditions, and lasting bridges are built, facilitating dialogue, and promoting understanding and peaceful coexistence, while preserving precious knowledge linked to the protection of the environment and of the natural resources of the region.
Best essays on various topics are dramatised and made into plays and performed for larger audiences. It is planned to design and publish a series of booklets which will be distributed in all primary schools in the region. A BBC documentary based on the project has been proposed and is being considered at this time. It is hoped that the project will spread to other parts of Kenya and , indeed, to other countries in Africa and in developing countries where the problem of loss of cultural identity prevails; we are developihg links with educators in India who are keen to apply the same concept to that country.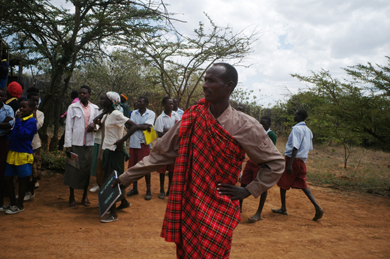 Initiated in September 2003, based on The Laikipia Nature Conservancy, in partnership with the Ford Foundation, and The Gallmann Memorial Foundation, the 4 Generations project became fully fledged in January 2004, and now enjoys the enthusiastic support of the entire population of this part of the region. The local communities and several local schools are actively involved in its implementation.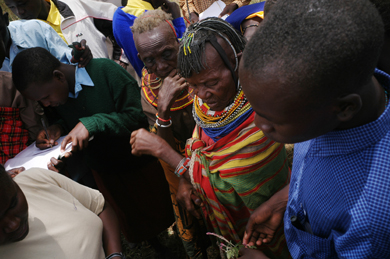 all photos on this page by Antonio Nodar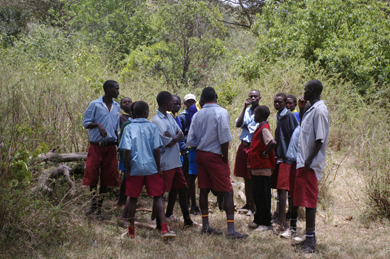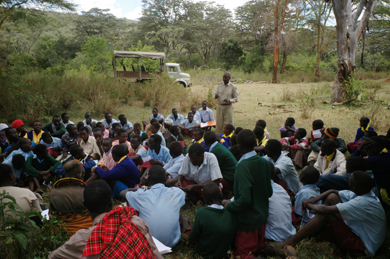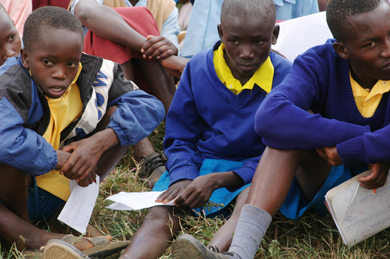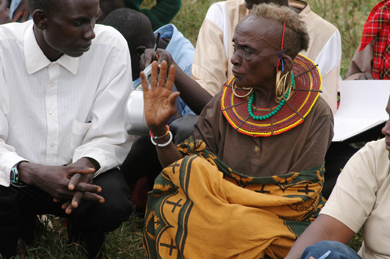 all photos on this page by Antonio Nodar