An Orchid for the Future
Project location: ITALY
Project start date: June 2001 - Project end date: December 2001
Project number: 2000-03
Beneficiary: University of L'Aquila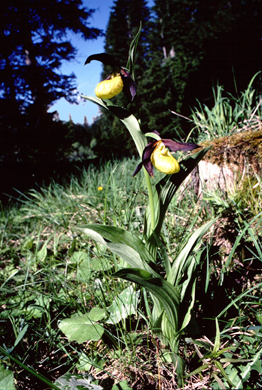 Project activities
Prof. Walter Rossi has returned from his journey to Russia where he managed to analyse the samples of Lady's Slipper and he anticipated that this first study stage has given unexpected results: the Russian populations also have low genetic variability and therefore are useless for re-enforcing our populations. From these analyses it was also seen that dense populations are stronger than scattered ones.

This might be caused by insects where the density of the plants is higher. Therefore to make our populations stronger we have to increase the density that, above all in the Majella National Park, is prevented by the spread of the beech forest. By thinning out the beech in the two main populations in the Apennine (The Abruzzo National Park and the Majella National Park) and carrying out hand pollination, it will be possible to increase the Apennine's population and therefore make it automatically stronger for the future.

Rossi presented this result at the first International Orchid Conservation Congress, September 2001 in Perth (Western Australia).