A Family Support Project
Project location: UNITED KINGDOM, West Midlands
Project start date: March 2001 - Project end date: March 2002
Project number: 2000-06
Beneficiary: KIDS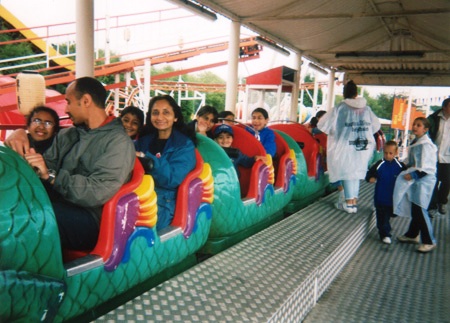 The Nando Peretti Foundation has supported KIDS with a view to establishing a service for children with disabilities and their families. The purpose of the Family Support Project is to support children with disabilities between the ages of 0 - 19 years, and their families who live in the Birmingham wards of Sparkhill, Sparkbrook, Washwood Heath and Small Heath.
KIDS' team of six, of whom four speak community languages, visits families in their own homes to listen and to offer advice, information, advocacy and practical support. KIDS offers a home learning service for the under fives, working with the child and family to set up an individual learning programme.

The Project began in April 2001 when the Project co-ordinator was appointed. The first month was spent in setting up the service, producing promotional and administration materials and promoting the service to other organisations. Contact was made with all the relevant Health Service professionals, other support networks and service providers in the area covered by the Project.

The Project is well established now and KIDS is getting a lot of calls from families, professionals and other Project workers in Birmingham. KIDS has reached over seventy five families in the designated wards. Some of the families they are working with have passed the contact details on to other families and friends. In this way KIDS is reaching children and carers who really need their service.

The Project has been warmly welcomed by both statutory and voluntary organisations who have all shown a willingness to work co-operatively with KIDS and who have given KIDS a lot of support.

The main bulk of the time is spent in working directly with the families, supporting them, helping them to gain access to services, education and funding and empowering them. KIDS staff has listened to their carers and are developing services in the Project to meet their needs.
---
Consultation with parents
In January 2002 parents who have children with disabilities, living in the area covered by the Project, were asked about the services they would like for children under four and about any other services that would be of use. The results showed that the greatest need was for more information. Many families felt that home visits were of great benefit with 80% of parents wishing for more information on benefits and services available and 60% felt that regular support groups would help also.

This and the consultation exercise carried out in Sparkbrook last year with families of children with disabilities clearly demonstrated the need for exactly the kind of service KIDS is providing.

---
Staffing
The Project currently has six members of staff, a Project Co-ordinator, four Inclusion Workers and one Portage Advisor.

THE TEAM

Project Co-ordinator - Carol Naughton
Carol is a qualified, experienced Paediatric Physiotherapist and has a wide knowledge of different disabilities and of the issues surrounding disability.

Inclusion Workers - Jagjit Kaur
Jagjit is a qualified Social Worker who has worked with children of all ages. She has excellent communication skills and speaks English, Punjabi, Urdu and Hindi.

Hansa Vadia and Kausar Naheed
Hansa and Kausar are both trained Community Parents and have gained qualifications in Early Years Education and Childcare. They speak local community languages also including English, Gujarati, Hindi, Urdu, Punjabi and Mirpuri.

Burgees Bukari
Burgees is a classroom assistant in a local school and has worked with children with disabilities and their families for many years. She is a trained 'Health and Fitness Instructor' and also speaks community languages.

Portage Advisor - Pauline Wilson
Pauline is a trained Portage Advisor and a qualified Nursery Officer. She was the 'Under 3' curriculum co-ordinator having responsibility for writing the curriculum and training packages for Birmingham nurseries.

---
Evalutation and monitoring
Quantitative Monitoring

A first visit to a family would normally take up to two hours with subsequent visits lasting between one hour and two, depending on the needs of the family. Filling in a complicated form for the family, such as the Disability Living Allowance form (DLA), takes at least two and a half hours to complete. State benefits such as DLA provide financial support to enable parents to pay for care and mobility provision for the child. It is really important that forms for State benefit are filled in correctly - if not the family may lose benefits to which they are entitled.

The bulk of their time is spent visiting the families and then making phone calls or visits to gather the information they need and to help resolve the problems.
Qualitative Monitoring

Some families just want the support of someone they can talk to and share their worries and problems with. Mothers often tell KIDS staff that they have no one they can really talk to and for some it is the first time they have felt able to really express how they feel about having a child with a disability.

For most families KIDS is giving them practical support also such visiting schools and nurseries with parents and helping them plan to ensure the best provision is being made for their child or supporting individual children in schools and nurseries.

KIDS continues to help families access the benefits and services available to them and to act as advocate for many families.

KIDS is currently working with fifty two families.

---
Working towards inclusion
Within the Project Kids is working to the Social Model of Disability rather than the Medical Model. The Social Model points out that it is society that puts up the barriers to inclusion for people with disabilities and also society that disables people and creates disadvantage. Kids is working to overcome those barriers and towards inclusion of all in the community, whether they are physical barriers or ones created by people's attitude and discriminatory practices through lack of knowledge and information.

Kids wishes to enable children with disabilities and their families to be able to access mainstream opportunities in leisure, education, health and social activities.

Kids is part of a wider group, Support Network for Asian Parents (SNAP), that conducted research into the support needs of Asian Parents who care for children with disabilities/special needs in one of the designated areas of the Project and is working to implement the recommendations from the consultation.

Over the summer the staff has actively supported children with disabilities in mainstream nurseries and playgroups to ensure that all practices and activities were inclusive and children with disabilities are not left out. They worked on a one to one basis with individual children enabling them to take part in the same activities as all children in the group.

Carol spent one week training staff in a mainstream play scheme on different types of disabilities such as Cerebral Palsy and Autism with the emphasis on how to include these children in planning activities.
---
Tackling isolating
Many of the families, including the carers who do not speak English, feel isolated and have no one to talk to about the problems they face in coping with a child with a disability. They often find it difficult to get out to take part in playgroups or socialise in the community because of the combined difficulties of lack of transport and the perceived problems around inclusion of a child with disabilities. On the basis of Kids experience there is still a discernable stigma associated with having a child with a disability particularly in the Asian community. For example the mother of one of the children with the Project reports that her neighbours will not allow their children to play near their house because her child has Cerebral Palsy. They believe that their children may 'catch' it.

Of the families we work with 68% of the main carers have no access to a car and 46% do not speak English. Another contributing factor is the lack of finances in many families. In the Project 29% of the families we work with have both parents unemployed and 16% of the carers are single parents.


Outings and Social Events

To help ease the burden of isolation and enable some of our parents to meet each other and have time to talk in an informal way the staff planned four trips out.

They had an excellent day out in August to Telford Park, a local park that has one area of the park called 'Wonderland' with characters from many fairy tales set in beautiful woodland, it is accessible to all. Many parents met others who are in a similar situation for the first time and were able to talk, share experiences and have some fun even though it was a very wet day. Kids held a social event with food to share and an opportunity for parents to meet again, talk and laugh at the photos of our Trip.

At that social event our parents agreed to set up a regular support group which continues to meet and is referred to in the section below.

Staff and families together had a second day out over the Christmas holidays to 'Think Tank' in Birmingham. Twenty-two carers and twenty-eight children took part in that trip and all said it had been a really good day out. Kids had arranged for the venue to provide them with a room to have lunch together to enable the carers to have time and space to talk to each other.

In February 2002, at the request of some of the 'mothers', Kids is going to organize a 'Pamper Day' when the staff is taking the carers to Merryhill Shopping Complex for a day out, without the children, to shop, eat and have fun! At Easter the staff is planning a fourth trip. This time for all the family and they will go to Cadbury's World to watch the chocolate being made and, no doubt, to sample some.

Kids has been supported in paying for our trips out partly by the Carers' Association' in Birmingham who funded the trip to 'Think Tank'.


Support Groups

After the first trip Kids staff invited all the carers to meet together, have a light lunch and to discuss whether they would like to set up a regular support group. Many carers came and Kids has now established a support group that meets once a month. At some of the sessions there will be made activities such as 'Stretch and Exercise' classes or invite in people to talk to us or demonstrate products. At the next one The Body Shop are coming to demonstrate essential oils and therapeutic massage to help relax and calm children.
One of the parents supported by the Project has set up an inclusive 'Play and Stay' group in her area, aimed particularly at supporting parents with children with disabilities.
Kids is also trying to link 'Phone Friends' where carers live further apart.


After School Siblings Club

There have been many studies that have shown the effect on Siblings of having a brother of sister with a disability. The needs of the child with the disability are often put first, encouraging early maturity in siblings where they often miss out on some aspects of their childhood.

This can have positive and negative effects but it does mean that often they loose out on some of the fun of being a child. Siblings themselves have asked for time to be away from the family and have quality time for themselves when they can feel special. They asked too for time to be with others in similar situations with whom they can share their experiences.

Through running the club Kids aims to offer a mixture of recreation, socialising, discussions and activities such as games and role-play together with the emphasis on self-expression and enjoyment. The club will be run in partnership with the children and it will be them who decide on the kinds of activities and the rules for the club.