Supporting a Program on Nutrition and Education for the Street Children in Salvador, Brazil
Project location: BRAZIL, Salvador
Project start date: June 2012 - Project end date: December 2012
Project number: 2012-039
Beneficiary: Associazione Progetto Axé Italia Onlus
First Report ( Timeline: August-November 2012)
This project involves providing the students at Projeto Axé, which for 22 years has been working in Brazil to rehabilitate street children living in conditions of poverty and hardship, with two meals a day for a year and educating them in the fundamental importance of a healthy diet in the physical, mental and social development of every human being. The aim is to give this children access to food (in particular to healthy and well balanced meals) and at the same time to provide them with adequate nutrition education. The project also intends to lay the foundations for a future multiplication/"viral" effect with the aim of gradually improving the quality of life in the local context (Salvador).
A professional food scientist has worked with Projeto Axé from the outset, overseeing all aspects the educators' and students' diet: food purchases; the proper handling of ingredients; menu preparation; creative strategies for getting youngsters to accept certain foods such as vegetables that tend to be rejected on principle; lasting and ongoing training for cooks; specific training for educators and students and lasting and ongoing processes during mealtimes.
However, funding from the Fondazione Nando Peretti has enabled Projeto Axé to launch a specific project involving a three-month cycle of lessons in food and nutrition that is repeated four times a year, to give access to this kind of training to educators, students and their families who want or are able to take it.
The activities of the specific project follow two strands:
a) a series of 30 lessons for all students at the two Axé reception centres "Pelourinho" and "Baixa do Sapateiro" (and for those families that are able or want to take part) with the following content:
Food in the life of a human being (5 lessons)
The relationship between food intake, physical growth and brain, mental and intellectual development (3 lessons)
The nutritional value of the various foods that make up the traditional Brazilian diet (rice, beans, cassava flour, meat (beef, pork, mutton, goat, chicken), marine and freshwater fish, eggs, milk, fruit and vegetables (5 lessons)
Food preparation and kitchen hygiene (5 lessons: 3 of theory and 2 of practice, to be conducted in the kitchen)
Table hygiene: before, during and after meals. The use of crockery, glasses and cutlery (note that youngsters enter the reception centres knowing only how to eat with their hands; moreover in Brazil the various courses do not arrive in succession but rather all at the same time, and are eaten from a single plate; cassava flour is used to bind the various components, standing in for bread which is consumed at breakfast and as a snack (5 lessons)
The role of chewing; respect for others at table; food waste: over-serving only then to be unable to eat everything on one's plate and have to throw it away. The cost of food waste in Brazil and to Projeto Axé; "I don't like" concerning vegetables and other foods (7 lessons)
b) ongoing training and orientation provided by educators during mealtimes.
It should be noted that there is no conventional 'school year' at Projeto Axé: youngsters are accepted throughout the 12 months following a period of street education. This means that it is always necessary to repeat the educational cycle as set out above for new arrivals.
Expected results of the project include:
- an 85% reduction in internal waste;
- a 60% increase in the acceptance of vegetables;
- the training's multiplication effect, whereby older students who have already undergone training train their new companions
Food and nutrition education presents a major challenge when it is directed at children and young people who for years have "scrounged around to fill their stomachs", very often by foraging for scraps of food thrown away by other people. It is not a question of replacing one dietary culture for another since these individuals' eating habits have not been properly acquired and preserved. Research carried out in various cities in Brazil shows that so-called "street children" manage to "matar a fome" (kill their hunger) on a daily basis by "scrounging". This does not mean that they have a satisfactory state of nutritional well-being; on the contrary, there is no balance between vitamins, proteins, mineral salts etc: they are totally lacking a regular and balanced diet. However these children were not born on the streets (!); rather, they have assimilated some eating habits from their families of origin - poor and inadequate habits. Once they have joined Projeto Axé they receive the necessary pedagogic and concrete stimulation to redeem positive eating habits, albeit ones that are inadequate and only in the early stages of formation, and to develop new ones in accordance with the traditional food culture of Brazil and of the Bahia region.
The funding from the Fondazione Nando Peretti has enabled Projeto Axé to complement routine food education activities with new and more long-lasting interventions such as training food professionals (nutritionist, cooks, kitchen assistants) in preparing meals, handling ingredients and presenting dishes.
The other area of action made possible by the funding of Fondazione Nando Peretti is the direct training of students to allow them to redeem lost habits and develop new ones, always in accordance with traditional Brazilian and Bahian food culture.
In the teaching of Paulo Freire, education is the patient repetition of ideas, concepts and practical and concrete actions. The main outcome of this funding has been precisely this: to have enabled Projeto Axé to implement pedagogical and formative actions not previously undertaken and that exalt, strengthen and surpass its educational praxis.
It is true that "street children" are a shameful emergency for Brazil, now the world's sixth largest economy and which is unable to establish a public policy granting these individuals citizenship rights. Only the public power can transform a project which, by its very nature, is limited in space and time into a public policy capable of benefitting all those in need.
This funding also has the great merit of enabling Projeto Axé to strengthen its political action of institutional dialogue by involving governmental and non-governmental organisations in the process, multiplying its effects beyond the confines of the project itself.
---
Final Report
(timeline: November 2012 - March 2013)
In the context of the present project, financed by the Nando Peretti Foundation, Projeto Axé launched a study/research on a sample of 19 children on health conditions and correlated nutrition habits of the kids currently attending its ArtEducation classes. The research has been initiated as a consequence of the "movement" towards a healthy food culture which was originated from the nutrition and education programme for the street children of Salvador supported by Foundation Nando Peretti; in fact, this programme not only provided 2 meals a day for about 400 children and teen-agers received by Projeto Axé, but also contributed to rise awareness about the importance of healthy and informed food habits in each person's life - children, their families and their communities, as well as educators, art teachers and their families.
The research has started at the end of 2012. The nutritionist employed by Projeto Axé first conducted an analysis of students' food intake. It emerged that most Axé students did not understand the nutritional value of what they ate and that their food habits were detrimental to their health; excessive consumption of saturated fats, simple carbohydrates and sodium was common. Numerous hormonal changes take place at this age and the demand for nutrients increases as a result. Thus the need became clear for an education programme in order to change students' eating habits in favour of a greater consumption of healthy foods such as vegetables, fruit and legumes.
It is an established fact that a healthy diet must be based on food choices rooted in social and cultural norms. The choice of food is not determined only by nutritional value but also by taste, texture, colour, appearance and especially the culture of origin. The low cost of processed foods cannot be ignored either; students often say that manufactured products are cheaper than healthier food items such as fruit, legumes and vegetables. A person with a poor diet is more susceptible to ill health as the lack of nutrients alters normal bodily function.
For many Axé students the meals served at the Axé Units (buildings) are the only food they get all day. For this reason the menu needs to contain all the nutrients essential to their physical and mental development, in the knowledge that a full and balanced diet comes at a price. Following this approach, it makes sense to devise a diet based on local food practices, seasonality and nutritional value, while also considering the cost.
The menu offered to Projeto Axé students has been therefore carefully developed and balanced and takes account of their dietary needs in the various stages of childhood and adolescence:

• Given that the students are in a period of hormonal growth and change, priority is given to protein-rich foods that help the body build tissue and have hormonal, enzymic and defensive functions. Rice and beans is one example of a dish containing these kinds of nutrients that is popular among students; it is a perfect combination that can be eaten every day without adverse health effects. Not only is it typically Brazilian and contains protein with a high biological value but it also costs less than other nutritious foods

• Carbohydrates are another important food group and are considered the body's main source of energy. Children and adolescents burn off a huge amount of energy and need to eat bread, pasta, cereals, fruit, vegetables and legumes to replace it

• Nor can lipids - other essential nutrients whose biological functions include energy storage, protection and transport - be missing from a healthy diet. However, it is important to give priority to quality lipids (fats) such as oils containing omega 3 and 6 that are highly beneficial to health and help prevent cardiovascular disease

• When planning children's and adolescents' food intake priority must also be given to vitamins and minerals as they enhance the immune system and strengthen bones. Given the importance of these nutrients Projeto Axè encourages a high intake of milk and dairy products
Despite the care taken by Projeto Axè to provide a balanced diet containing all essential nutrients some students reject certain foods that are important for health. In general they tend to prefer industrial foods containing 'empty' calories that have low nutritional value. For this reason space has been given to educating students in order to change their eating habits. Measures have been taken and activities are carried out to raise awareness among participants of the food they eat, leading to an improvement in their quality of life.
Students underwent a nutrition analysis to assess* their dietary status and check that their weight and height were appropriate to their age. During the evaluation they were asked to fill out a questionnaire aiming to identify their food preferences. The results were used to identify those students requiring nutritional accompaniment. The results were analysed as follows:
____________
* The assessment was made on the basis of the WHO growth standards recommended by the Brazilian health ministry (2007) for children aged between 5 and 19. For boys and girls aged 5-10 the weight-for-age (percentiles), body mass index (BMI)-for-age (percentiles) and height-for-age (percentiles) indicators were used. For boys and girls aged 10 years and above the body mass index (BMI)-for-age (percentiles) and height-for-age (percentiles) indicators were used.

_____________
RESULTS AND DISCUSSION OF THE RESEARCH

Anthropometry

The study involved 19 children of whom 53% were male and 47% female, with an average age of 10 years and 3 months.
The anthropometric data showed that 73.7% of the children assessed were eutrophic on the basis of the body mass index (BMI)-for-age (percentiles) indicator. This is a positive result given the current gradual increase in the percentage of overweight children, a major issue for public health.
10.5% of children in the study group were overweight; this value is close to that recorded by Abrantes et al., 2002, who registered excessive body weight in 8.2% of children in the Northeast Region of Brazil. These figures are of concern insofar as the children are at greater risk of obesity in adulthood and of developing related diseases.
However it is equally important to stress that more children and adolescents in the study group were underweight than overweight (Diagram 1).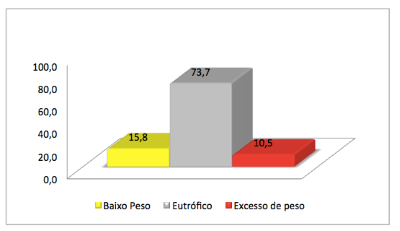 Diagram 1. Anthropometric state of children and adolescents at Projeto Axé according to the body mass index (BMI)-for-age (percentiles) indicator. Salvador - BA, 2012.
Legend Diagram 1. Yellow: underweight; Grey: normal weight; Red: overweight
Diagram 2 shows that 10.5% of the children assessed were short for their age. This is less than the 16.9% recorded among children in the State of Pernambuco. Some studies show that height deficit and protein-energy malnutrition are closely linked to adverse socioeconomic conditions (Laurentino et al., 2006; Engstrom and Anjos, 1999).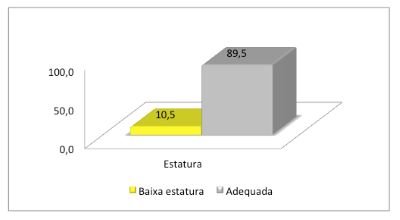 Diagram 2. Anthropometric state of children and adolescents at Projeto Axé according to the height-for-age (percentiles) indicator. Salvador - BA, 2012.
Legend Diagram 2: Yellow: low height; Grey: normal height
Food consumption
Pasta, particularly lasagne and dried pasta, was the children's and adolescents' preferred food (78.9%). This was followed by fruit, with 68.4% of preferences, with apples, watermelon and grapes coming top. Instead 47.4% showed a preference for legumes, particularly beans.
Children tend to prefer foods with a high energy content. However, the exaggerated intake of high-calorie foods can limit the consumption of a varied diet as they fill children quickly, so preventing them from eating other foods.
The fact that fruit appears among the food likes indicated by the study group may be a reflection of activities carried out by the nutritionist working on the project. Birch (1999) in Valle and Euclydes (2007) claims that few food likes can be considered innate, while most are acquired as a result of experiences had during feeding and are associated with the food environment during childhood, particularly in relation to the social context. Group feeding can have a positive impact on the adoption of good eating habits, so institutions catering to school-age children provide an ideal environment for nutrition education programmes.
Regarding the main food dislikes reported by the young students, legumes placed in first place (100%), particularly beans and soya. Meat-based foods came second at 84.2%, with the kids expressing a particular dislike for beef, followed by vegetables at 47.4%, particularly "chuchu" (local vegetable) and carrots.
To facilitate the acceptance of a more varied diet children need to be exposed to many different foods regularly and from an early age as they tend to reject novelties. This is also why the children from Projeto Axé, who come from difficult childhoods, do show strong resistance to food novelties.
In fact, the influence of the care-giver, particularly the mother, is one of the main environmental factors impacting the formation of eating habits. The mother's attitude to feeding her children is of the utmost importance in this respect and so it is necessary to promote the development of nutrition education programmes targeting both mothers and children for the improvement of the nutritional status of the age group in question.
The data collected show that the majority of the children were in a eutrophic (i.e. average) state, representing a positive factor for growth. However extreme cases remain, and these can be tackled through a healthy eating approach to promote adequate weight-height development according to accelerated growth during puberty or to maintain weight, given that children who are obese before the growth spurt cannot undergo induced weight loss.

In the context of the topic Healthy eating and Quality of life, the nutritionist conducted learning activities focusing particularly on dietary re-education and addressing the following areas: the concepts of food and health; different kinds of nutrients; the importance of food optimising; the danger of an excessive intake of processed foods; the function of each kind of food for the human body; how to acquire good eating habits; the importance of having access to a vegetable garden at the Unit.
In order to offer a quality nutrition service involving three meals a day to children (breakfast, lunch and dinner) it has also been necessary to train the kitchen staff. They have had access to a refresher course in food preparation; a pamphlet on personal hygiene and handling food; and culinary workshops aimed at improving the sensory properties and presentation of food.
All students at Projeto Axè are given two meals a day, corresponding to breakfast and lunch, or to lunch and dinner (depending on the time the student attends the classes at Projeto Axé, since some of them attend lessons in the morning -going to "formal" school in the afternoon- while others attend in the afternoon -going to "formal" school in the morning). During the 2012/2013 school year a total of 450 socially vulnerable children, adolescents and young people have benefitted in this way.