Studying Law in English at ROMA3 University
Project location: ITALY, Rome
Project start date: July 2006 - Project end date: October 2009
Project number: 2006-14
Beneficiary: ROMA3 Facoltà di Giurisprudenza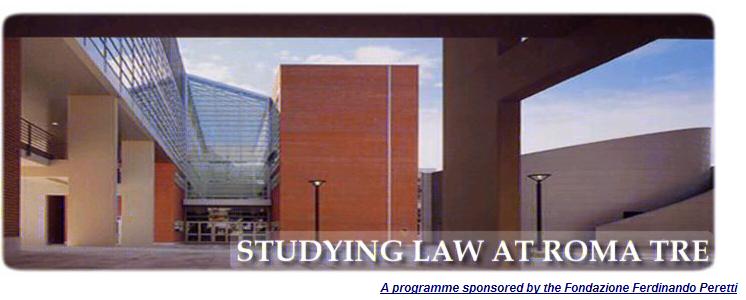 In the Spring Semester of 2009 the Studying Law at Roma Tre programme has included:
Four courses:
1.International Business Contracts and International Arbitration - Prof. A. Zoppini with Dr. F. Maschio and Dr. R. Spitzmiller
2. International Humanitarian Law - Prof. P. Benvenuti
3. Law and Humanities - Prof. E. Conte
4. Public Economics and Regulation - Prof. B.Bises
Two seminars:
1.EU Internal Market Strategies and Administrative Law - Prof. G. Corso and Dr. M. Lottini
2. Legal English - Dr. I. Robinson
Within these activities there have been a series of guest lecturers, most of them from other European and US universities:
Professor Timothy ARCARO (Nova Southeastern)
Professor Esteban CONDE (Huelva)
Professor Toni FINE (Fordham)
Professor Francesco FRANCIONI (EUI)
Professor Ronald GILSON (Stanford)
Professor John HEAD (U. Kansas)
Professor Robert KOLB (Bern)
Professor Fiorella KOSTORIS (Rome - La Sapienza)
Professor Paolo LIBERATI (Urbino)
Professor Georges MARTYN (Ghent)
Professor Ved NANDA (U. Denver)
Professor Antonio PEDONE (Rome - La Sapienza)
Professor Giuseppe PISAURO (Rome - La Sapienza)
Professor Paolo POLIDORI (Urbino)
Professor Giorgio RESTA (Bari)
Dr. Magnus RYAN (Cambridge)
Professor David SKEEL (U. Penn.)
Professor Gary WATT (Warwick)
As from January 1st a new lecturer - dr. Rebecca Spitzmiller - has joined the Faculty as Programme Coordinator of the Studying Law at Roma Tre project. Dr. Spitzmiller's salary is entirely borne by the Roma Tre university.
From May 2009 the Faculty has staffed the Programme with an administrative unit - dr. Silvia Passarelli - in order to cope with the growing organizational problems of the Programme. The cost is entirely borne by the Faculty.
In April 2009 a new web site of the Studying Law at Roma Tre programme has been on-line and has rapidly become the main medium to promote the programme (http://www.giur.uniroma3.it/studying_law/index.php).