The Amazonian Rainforests are on Fire!
Project location: VARIOUS COUNTRIES, Amazonia
Project start date: n/a - Project end date: n/a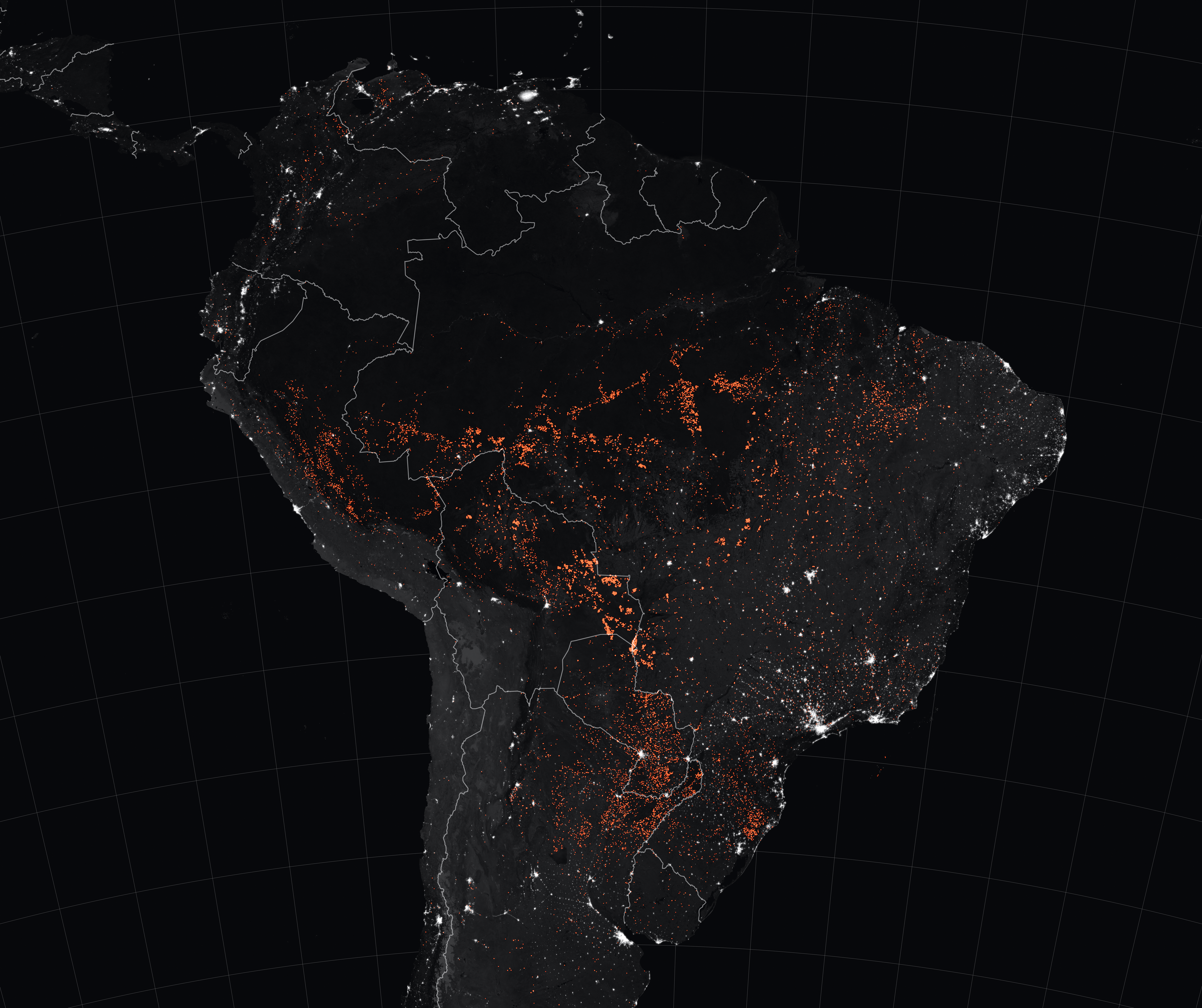 photo above: Locations of fires, marked in orange, which were detected by MODIS from August 15 to August 22, 2019
The Nando and Elsa Peretti Foundation informs potential applicants that it will not accept new project proposals until December 2020.

This suspension is due to the decision taken by the President and the Board to commit the Foundation's resources to the environmental emergency of Amazonia as a priority, approving a three-year project that will be implemented by the No Peace Without Justice association in collaboration with several pan-Amazonia partners.

The goals of the project are significant and a potential game-changer: they seek to address climate change and degradation of the Amazon through the lens of accountability. The damage to the Amazon is not being done by accident: much of the devastation is a result of deliberate choices and policies that can be reversed through shining a light on them. This project seeks to support that process through canvassing and activating different accountability options at the national, regional and international levels. NPWJ will seek to change the perspectives decision-makers around the world, to encourage them to say enough: this must stop and responsibility must be uncovered so that practices and policies can benefit, rather than harm, the Amazon and its people.
The main anticipated achievements of the project are that (a) accountability avenues are identified also as a means of knowing the truth and deterring future violations and climate disaster. This main achievement will be facilitated by a supportive legal and political environment that is built through the following additional achievements: (b) awareness is raised among key stakeholders at the national, regional and international level about the crisis in the Amazon and the links with environmental and land management policies and human rights violations; and (c) plans and initiatives for behavioural change among key stakeholders are designed and implemented by local and regional actors.

This project is of strategic importance to the Foundation.

We are convinced that this is an effective way to concretely contribute to countering serious violations of human rights and the destruction of the natural resources of our planet.

We invite you to follow the developments of this new, important commitment and we thank you for your support.