Solti-Te Kanawa Bel Canto Masterclasses
Project location: ITALY, Various
Project start date: January 2005 - Project end date: This project covers various years
Project number: 2005-30
Beneficiary: Accademia di Bel Canto
Please click on the following links to open and/or download the files:
2008 Press Review

MAREMMA NEWS
Da tutto il mondo giovani talenti licirci studiano a Castiglione
Il concerto venerdi 18 luglio alle 21 piazza Solti

Castiglione della Pescaia: Sono voci giovani e assolutamente straordinarie, da brivido, provengono da ogni parte del mondo, selezionate dall'Accademia di Bel Canto Georg Solti. Sono i talenti della lirica del futuro che ogni estate, da cinque anni, vengono ospitati dal Comune di Castiglione della Pescaia dove frequentano un master di altissimo livello.
Era questo il sogno che aveva il grande direttore d'orchestra Solti e che sua moglie Lady Valerie è riuscita a realizzare proprio nel paese che lui amava moltissimo. Il concerto che chiude i masterclasse di quest'anno è fissato per venerdì 18 luglio alle 21.30 in piazza Solti a Castiglione della Pescaia. Ogni anno è uno spettacolo in onore del grande artista scomparso nel 1997 e che, per la qualità delle esecuzioni, lascia un segno indelebile nella memoria dei castiglionesi. Da quest'anno inoltre l'accademia cambia nome diventando SOLTI TE KANAWA ACCADEMIA DI BEL CANTO.
Il grande soprano Kiri Te Kanawa, un'autentica leggenda vivente della lirica, ha rafforzato la sua collaborazione con la struttura. La collaborazione tra l'Accademia e Kiri Te Kanawa, già consolidata negli anni passati, era fortemente desiderata da Lady Solti in onore del rispetto reciproco che ha accompagnato la carriera artistica del soprano e del Maestro Solti. Questo accordo farà sì che Kiri sia docente fissa alle masterclass annuali e che possa portare il suo importante contributo artistico e umano alla vita dell'Accademia. L'annuncio è stato dato stamattina durante una conferenza stampa a Castiglione della Pescaia dalla stessa Lady Valerie Solti insieme a Candice Wood, chief executive dell'Accademia. Per il Comune erano presenti il vice sindaco Sandra Mainetti e Patrizia Guidi responsabile dell'ufficio Turismo.
L'Accademia Solti nel luglio di ogni anno invita a Castiglione alcuni tra gli esponenti più importanti della lirica mondiale per insegnare a quindici giovani cantanti le tecniche di perfezionamento, e portarli a livelli di performance elevatissimi. L'Accademia è ormai una delle eccellenze italiane di cui andare fieri nel mondo, ambasciatrice della nostra cultura e dello splendido patrimonio naturale della Toscana. Ogni anno, accanto agli insegnanti, i giovani musicisti hanno l'opportunità di confrontarsi con i più grandi nomi della lirica: quest'anno Kiri Te Kanawa e Frederica von Stade, in passato Leo Nucci e Mirella Freni.
L'opportunità di partecipare è offerta ai migliori talenti che vengono selezionati a gennaio alla Royal Academy of Music di Londra. E' un'occasione straordinaria per loro, sia per la possibilità di avere come insegnanti artisti così applauditi, sia per l'alto livello del corpo docente dell'Accademia, che si avvale di professionisti provenienti dalla R.A.M. di Londra, dal Conservatorio di Pescara, dalla Julliard School di New York e dal Curtis Institute di Philadelphia. I giovani che sono adesso a Castiglione si esibiranno anche l'11 novembre all'Ambasciata italiana a Londra, ospiti dell'Ambasciatore Giancarlo Aragona. L'Accademia fino a oggi ha formato 60 cantanti, accompagnandoli di fatto al debutto nella carriera da professionisti. Quest'anno hanno chiesto di partecipare oltre 80 ragazzi da ogni parte del mondo. "Per Castiglione delle Pescaia l'Accademia è una grande opportunità di cultura e di bellezza. Chi si trova a passare dai locali della scuola di musica in piazza Orsini o dalle parti della Sala Consiliare non può fare a meno di fermarsi ad ascoltare le voci dei giovani. E' un evento che accresce la nostra sensibilità e ci permette di ampliare i nostri orizzonti" - ha affermato il vice sindaco.
Perché Castiglione della Pescaia
Lady Valerie Solti inaugurò l'Accademia cinque anni dopo la scomparsa del marito con l'obiettivo di continuare a trasmettere l'energia e la passione per la musica che hanno reso unico il Maestro Solti, famoso anche per la sua inattaccabile fiducia nei giovani di talento. Solti comprò la sua casa a Castiglione e ne fece per oltre 45 anni il rifugio di famiglia nel quale caricarsi di energia, riflettere e studiare. Castiglione è un vero angolo di paradiso per la sua semplicità e la qualità della vita, tanto da aver attratto nel tempo anche Puccini, Italo Calvino e Carlo Fruttero. "Ogni estate il nostro Comune ospita giovani provenienti da tutto il mondo che animano il nostro paese con la loro voce e la loro passione - afferma Monica Faenzi, Sindaco di Castiglione della Pescaia - Una presenza diventata in pochi anni un appuntamento atteso che porta bellezza e cultura. Siamo convinti che il seme di questo progetto, nato dal desiderio di Sir Georg Solti, che fu tra i nostri ospiti più illustri e graditi, e realizzato per volontà di Lady Valerie, continuerà a produrre frutti vitali nel tempo."
La stessa passione per questo angolo di Toscana è condivisa dallo chef Alain Ducasse e dal produttore vinicolo Vittorio Moretti che, con Ducasse, ha creato il meraviglioso Hotel Andana che ospita ogni anno il concerto di fine corso.
L'Accademia Solti è un progetto possibile grazie al forte contributo della Fondazione Peretti, guidata da Elsa Peretti, generosa mecenate e famosa disegnatrice di gioielli per Tiffany.
Gli allievi di quest'anno sono:
Georgia Ginsberg, Charlotte Stephenson, Alexander Grove, Rhys Jenkins e Elisabeth Powell - Inghilterra
Nona Krastnikova Alec Avedissian - Bulgaria
Nina Lejderman - Svezia
Amy Radford e Stuart Haycock - Australia
Narine Ojakyan - Armenia
Eleonora Vindau - Ucraina
Kristen Darragh - Nuova Zelanda
Adriana Festeu - Romania
Nathan Herfindahl - Stati Uniti
---
2005 Press Review
Two Scholarships and CDs for the masterclasses of Accademia di Bel Canto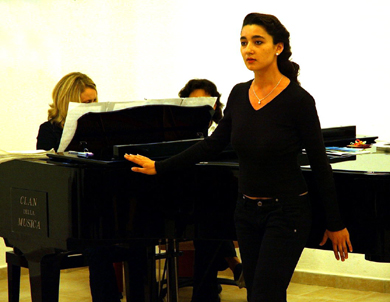 Press Review
The Daily Telegraph
September 18, 2005
A chance to eat, drink and sing Italian
by Rupert Christiansen
As part of the decade-long, multi-faceted training that slowly nurtures a classical singer, finishing school often comes in the form of one of the summer courses, usually held in idyllic rural surroundings that aim to relax as much as to stimulate.
Many of these are attached to festivals - Aix, Aldeburgh, Bayreuth, Salzburg and Tanglewood, for example, all have student programmes - but some go it heroically alone. To this list one must now add the Solti Accademia di Bel Canto, held in the cheerful seaside resort of Castiglione in the Maremma region of Tuscany.
It takes its name from the association with the town's most celebrated inhabitant, the great conductor Sir Georg Solti, who built a beach house here in the 1960s and spent every summer in it with his family, learning scores as well as indulging in his various sporting passions, until his death in 1997.
To set up the Accademia, the young musicians' foundation established in Solti's memory by his widow Valerie has joined forces with the local commune, events organiser Candice Wood, the Nando Peretti Foundation, and staff from the Royal Academy of Music.
The result is a two-week course focused exclusively on Italian opera, for 17 young singers, the great majority of them studying full-time in the UK but embracing a rainbow of nationalities and personalities.
Organising the syllabus and controlling activities is the much respected London-based vocal coach Jonathan Papp, himself trained in Milan and previously the director of a similar summer school in the Abruzzi. "The point is not just an excuse for a nice sunny holiday," he explains.
"During term time at music college, students are pulled in every direction and end up chasing their own tails. This is a chance to concentrate on one thing: total immersion in Italian culture. Not just Italian music and the Italian language, but the food, scenery and style too."
Next year, money permitting, auditions will be held internationally and the operation will be expanded to three weeks. Juan Diego Florez and Mirella Freni are slated for the master classes, and there are plans to use the town's orchestra to work on scenes from Italian opera as well as its arias.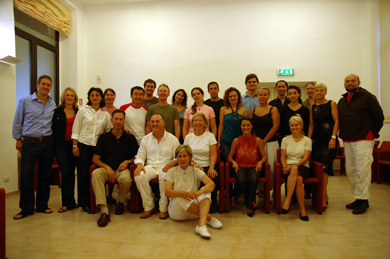 This year, coaching has been provided by Pepe Ferrari, Maria Giallombardo and Paolo Speca, alongside master classes from one of Solti's favourite sopranos, Kiri Te Kanawa.
Much to the delight of local residents and tourists, the fruits of their labours were presented in a final open-air concert in Castiglione's Piazza Solti. It could hardly have been more Italian if it had been smothered in spaghetti.
Although she is not the most intellectually cogent of coaches, Te Kanawa came up with the sharp idea of putting the Italian emphasis temporarily on hold and asking each student to sing her an unaccompanied folk song in their own language - "the most simple thing, but also the most difficult", she told them. "See if you can make me cry." Well, they did - once or twice with laughter.
For the observers, the talent-spotting is the real fun - everyone who drifted in and out of the classes had their own favourite. The elfin Romanian Eliana Pretorian, as pretty as a ballerina with a dark melancholy timbre reminiscent of her compatriots Ileana Cotrubas and Angela Gheorghiu, is one clear winner, though the Spanish coloratura mezzo Clara Mouriz is probably the most polished performer.
Among the men, a 29-year-old British baritone, George von Bergen, also impressed with his focused, poised intelligence: he has given up a career in newspapers to pursue his studies, and is hungry to learn everything he can - "I'm incredibly ambitious," he admits. And, as the teachers at the Accademia keep making clear, without that extra shot of ambition, you won't get anywhere in classical music today.