The Nando Peretti Foundation Distinguished Scholar Program at the American University in Bulgaria
Project location: BULGARIA
Project start date: September 2004 - Project end date: This project covers various years
Project number: 2004-25
Beneficiary: The American University in Bulgaria
The Nando Peretti Foundation Distinguished Scholarship Program at the American University in Bulgaria - A Project Successfully Completed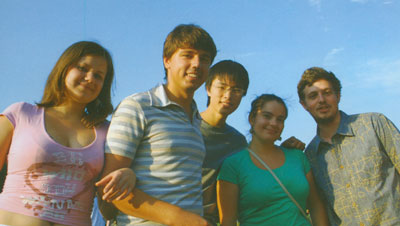 The American University in Bulgaria (AUBG) is a private American-style liberal arts university located in Blagoevgrad, Bulgaria. The University has assumed a unique and critical educational role in the dynamic region of Southeastern Europe through its emphasis on preparing students for leadership, community involvement, careers, and advanced study. The highly talented international student body is open to knowledge and ready to grow intellectually, professionally, and personally. The University attracts the best and the brightest. The average scores rank with the most selective colleges and universities in the U.S. and Europe. The University provides educational opportunities in the liberal arts to 1,100 students from 30 different countries including Bulgaria, the Balkans, and Central Asia.
In 2004 the Nando Peretti Foundation funded three full scholarships at the American University in Bulgaria for Academic Year 2004 - 2005 through Academic Year 2007-2008. All three AUBG students, selected as beneficiaries of the prestigious scholarship award were in good academic standing, committed to excel in their studies at AUBG and, as per the terms and conditions of the grant, were eligible for the continuation of their scholarship during the four academic years of study. The scholarship recipients were selected on a competitive basis from a candidate pool of entry level AUBG students seeking and qualified for financial assistance. This highly competitive award provided tuition, board, and room for Anna Shaleva, Valeria Dimitrova, and Nikolay Stoyanov. The Nando Peretti Foundation Scholarship Program at AUBG has successfully completed in 2008.
Anna Shaleva graduated summa cum laude with bachelor's degrees in Economics and in European Studies and GPA 3.96 out of 4.00. Her senior project was on brain drain and foreign direct investment flows. Currently, she is a PhD student in Quantitative Economics at the University of Alicante (Spain). She would like to pursue an academic career in development economics. She writes: "The entire advance in life that I was able to accomplish is to a great extent due to the trust and support I received from the Nando Peretti Foundation".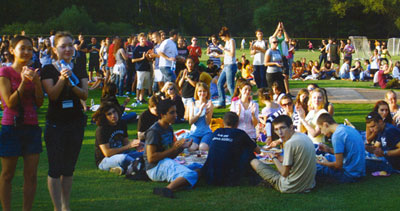 Valeria Dimitrova describes herself as "young, talented, and ambitious". She graduated with a Bachelor of Arts in Computer Science and now she works as a programmer and software architect for the Johnson Controls company, a large automotive company with worldwide business. Valeria is preparing to continue her studies at a prestigious graduate school in Computer Science and IT. While she studied at AUBG, she won the first place in the Eighth AUBG Programming contest. Valeria remembers the difficult times during her first semester at the University and how happy she was to learn that she has been awarded the Nando Peretti scholarship. "This wonderful act of philanthropy changed my life forever", she shared in her thank you letter to the Foundation.
Nikolay Stoyanov has successfully graduated with a Bachelor of Arts degree in Political Science & International Relations and in European Studies with GPA 3.89. He was interested in European Affairs and his senior thesis was in European policy. Nikolay has continued his studies at the London School of Economics and Political Science, where he is studying European Political Economy. His AUBG experience turned him into goal-driven and ambitious person and "a very important part of that experience is by no doubt the Nando Peretti Distinguished Scholarship. It is the best way to motivate and shape future young leaders". Upon completion of his studies at LSE, Nikolay is planning to come back to Bulgaria and to seek employment in the private or governmental sector.
There are no better ambassadors to promote the values of the Peretti Foundation not only in Bulgaria but in the region of South-Eastern Europe and other parts of the world than the recipients themselves. It is our hope that the Peretti scholars will apply their knowledge and skills acquired at the American University in Bulgaria to transform their community. The scholarship program at AUBG advances our goal to promote excellence in education and provides educational opportunities for outstanding but facing significant financial need young people determined to become leaders.