The Nando Peretti Foundation Distinguished Scholar Program at the American University in Bulgaria
Project location: BULGARIA
Project start date: September 2004 - Project end date: This project covers various years
Project number: 2004-25
Beneficiary: The American University in Bulgaria
[2009-39]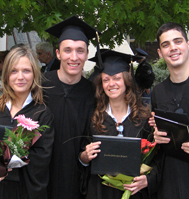 The Nando Peretti Foundation's grant will allow the University to offer a high quality, Baccalaureate education to 3 (three) needy Bulgarian students who would otherwise not have the opportunity to pursue a degree at an institution like AUBG.
The funding of scholarships will also assist the University in meeting its commitment to offer a high quality education to young people regardless of social and economic class.

The scholarship recipients will be selected on a competitive basis from the candidate pool of AUBG students seeking and qualifying for financial aid in AY'2009/2010. The awards will be for a period of four years. This will allow the scholarship recipients to complete a full, four-year course of study ending in a Bachelor of Arts degree. Students will be required to maintain a 3.0 grade average on a 4.00 scale to continue to qualify for the award. Also, students will be expected to display behavior and personal qualities that exemplify the high standards and qualities supported by the Nando Peretti Foundation.
AUBG will designate the scholarships as "The Nando Peretti Foundation Distinguished Scholarships" at AUBG.
AUBG will ensure that the recipients are selected from a highly qualified pool of student applicants and in accordance with specific criteria that may be required by the Foundation.
As soon as scholarship recipients are chosen, AUBG will send to the designated program officer at the Nando Peretti Foundation information about the recipients. Periodic updates on academic progress will be supplied to the Foundation in accordance with their reporting procedures.
AUBG will publicize the contribution of the Nando Peretti Foundation in the University's regularly scheduled press releases, publications, and recognition ceremonies.