Conserving Endangered Asian Elephants
Project location: INDIA, Jaipur
Project start date: September 2005 - Project end date: This project covers various years
Project number: 2005-28
Beneficiary: Elephant Family
The Nando Peretti Foundation has co-funded a project to protect and improve the living conditions of the elephants in the area of Jaipur, India.
Asian elephants are highly endangered. It is essential that current population numbers are maintained. In the case of Jaipur's elephants, it is not possible to relocate them in the wild. It has been suggested that improving the conditions and welfare for the elephants of Jaipur is the only viable option.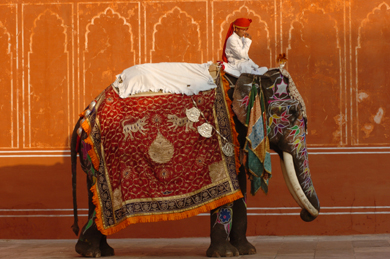 Physical Conditions
Jungle and forest is the natural habitat for Asian elephants, therefore the desert state of Jaipur is a completely unsuitable environment for the 102 privately owned elephants working there. Extreme climate conditions, with temperatures reaching 46°, lead to sunburn, and dehydration and in many cases, blindness. The elephants also suffer from the conditions in which they work - carrying heavy loads of tourists in uncomfortable saddles causes back problems and saddle sores. The hot bitumen roads cause serious foot problems and the long working hours, severe exhaustion.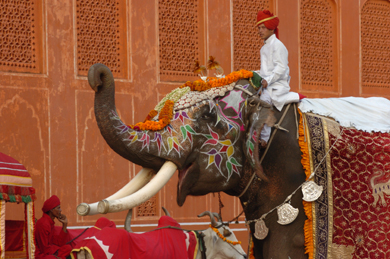 Local attitudes and knowledge:
Elephant welfare is the last priority amongst mahouts and elephant owners and there is a widespread lack of knowledge about elephant care and management. Traditional methods of treatment are practised which are often inhumane and there is a lack of concern for elephant well being.
At the invitation of HH The Rajmata of Jaipur in 2003, a local Jaipur charity, Help In Suffering (HIS) and elephant family (ef) have established a vital project to dramatically improve the health and welfare of Jaipur's endangered Asian elephants: The elephants are used to transport tourists up the steep hill to the popular Amber Fort attraction. Despite their high profile in Jaipur, these elephants are badly treated and suffer from a range of serious diseases and afflictions.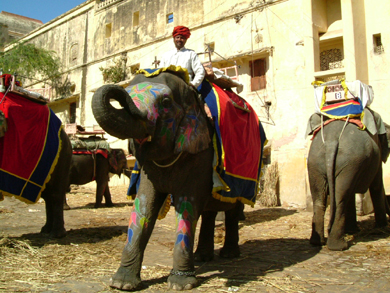 This project will transform the elephants from being used as a commodity from which to line people's pockets - no matter the degree of suffering and abuse, to a situation where mahouts and elephant owners develop an empathy with their elephants and are equipped with a basic understanding of elephant welfare. The project will introduce modern veterinary medicine so life threatening diseases can be treated and avoided and the physical conditions in which the elephants are kept will also be significantly improved.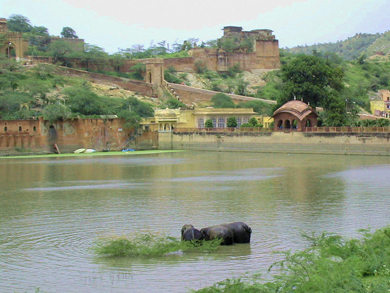 In the past year, much progress has been made in soothing the symptoms of the problems. The project is now established and in a position to take a more strategic approach in addressing the root causes; the basic fundamentals to implement long-term change are in place and the time to act is now: if a serious improvement is not made in the next year, the future of these endangered animals is seriously under threat.